Famed filmmaker Bob Bailey was hired in 1951 to produce "Gift of the Earth" – an epic documentary telling the story of the planning and construction of the original Transco pipeline.
The Gift of the Earth film is now archived as part of the Bob Bailey Collection at the Briscoe Center for American History at the University of Texas in Austin.
The film's iconic language and rich imagery capture the spirit of early 1950s America, casting the pipeline's founders as true industrial pioneers.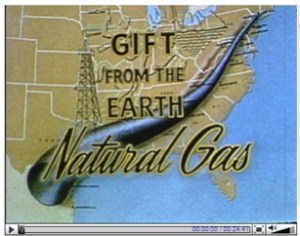 "Since Washington and Jefferson and our pioneer forefathers, America and its men have both accepted and sought gifts from the earth," the film's narrator declares.
The narrator continues, "Natural gas provides a flame that serves your home, business and industry throughout the land – a flame converted from a gift of the earth. Not a gift freely given by nature, but wrestled from her by men willing to pioneer. Men with vision and foresight; with courage to convert earthbound treasure into one of mankind's most useful commodities."
When Transco pipeline construction got underway on May 23, 1949, it marked the beginning of what was the largest single-project construction venture in the world.
Watch the film here