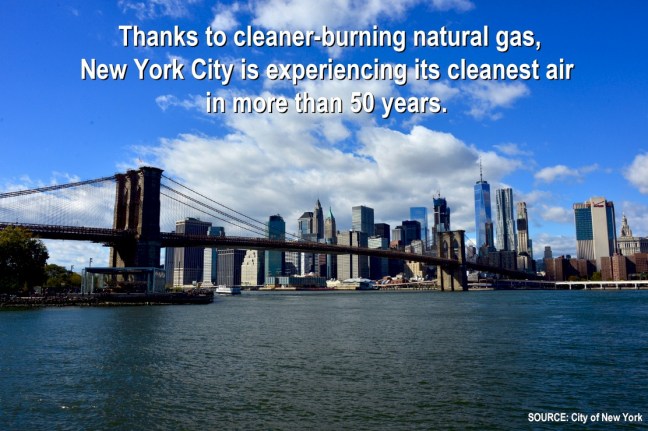 Breathe easy: New York City's air quality has reached the cleanest levels in more than 50 years, thanks in large part to natural gas.
New York City's natural gas consumption is climbing as the city continues to phase out the use of heavy fuel oils. Since 2008, more than 4,000 buildings converted to cleaner heating sources like natural gas.  As a result, from 2008-2014 sulfur dioxide levels fell 67 percent across New York City. Importantly, the decreased levels were maintained despite fluctuations in average winter temperatures.
In 2013, the city estimated that improved air quality contributed to 1,600 fewer asthma emergency department visits and 780 fewer deaths a year.
That is also good news for New York City consumers. According to the Energy Information Administration, delivered oil is consistently more than twice as expensive as delivered natural gas.
As New York City's reliance on natural gas increases, the associated energy infrastructure becomes even more critical.
Williams operates the Transco natural gas pipeline, which provides more than half of the natural gas consumed in the city – delivered to homes and businesses by local distribution companies Con Edison and National Grid.
In May 2016 Williams announced an expansion of its Transco pipeline to increase natural gas deliveries to National Grid by 400 million cubic feet per day (enough natural gas to serve the daily needs of about 2.3 million homes) for the 2019/2020 winter heating season.
The project, known as the Northeast Supply Enhancement project, will expand critical natural gas pipeline infrastructure in the northeastern U.S. to help meet the region's growing demand for natural gas. Once complete, it will help provide affordable, clean and reliable energy to northeastern consumers, including the 1.8 million customers served by National Grid in Brooklyn, Queens, Staten Island and Long Island.
"Customers and businesses in the local communities that we serve in New York City and on Long Island benefit from affordable, clean and reliable energy," said Ken Daly, President, National Grid New York.
"Williams' Northeast Supply Enhancement project expands on our commitment to further improve reliability, make available much-needed gas capacity to support job growth, and help reduce our carbon footprint."
With natural gas' relatively lower-carbon emissions (compared to higher-carbon fuel sources), the Northeast Supply Enhancement project has the potential to displace up to 15.6 million tons of CO2 – which is like removing 3 million passenger cars from roadways – annually.
The project is consistent and supports the objectives of Mayor Bill de Blasio's OneNYC, which set sweeping goals to further curb city emissions by 80 percent by 2050. Released in April 2015, OneNYC calls for "an increase in natural gas transmission and distribution to improve reliability and encourage conversion from highly polluting fuels."
Williams expects to file an application in early 2017 seeking federal authority to construct the Northeast Supply Enhancement Project.
For more information about the project, click here.