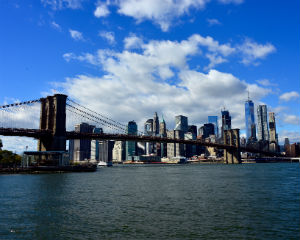 Community, labor and business leaders from across New York have announced the launch of New Yorkers for Affordable Energy, a coalition dedicated to supporting access to cleaner, reliable and affordable sources of energy for residential and business consumers.
Williams is among the 32 groups which have partnered to form the coalition. The company currently operates about 30 miles of natural gas pipeline in New York, including providing about half of the natural gas consumed in New York City.
New Yorkers for Affordable Energy supports increasing access to natural gas for manufacturing facilities, power production, transportation, and other purposes to support New York's economy and quality of life.
"Community and business leaders from across New York understand the important role natural gas plays as a catalyst for job growth," said Heather C. Briccetti, Esq., president and CEO of The Business Council of New York State, Inc. "The Council is proud to join with residents, labor leaders and fellow business organizations in highlighting the immediate and pressing need for access to clean and affordable energy."
James Cahill, President of the NYS Building & Construction Trades Council, said, " New York is at a crossroads in terms of energy policy. Demand for energy is increasing at a time when the state's aging infrastructure is already straining to meet the needs of consumers and businesses. Increasing access to affordable energy will help create jobs and lower energy costs for New Yorkers."
Coalition partners support the following key principles:
The expansion of natural gas service will bring more affordable heat and electricity to New York homes and businesses, helping to keep energy prices low for consumers.
Natural gas supports economic development and job growth by helping to attract businesses to New York.
Natural gas is an important source of cleaner, reliable energy, and an essential part of New York's energy mix.
Coalition members support a spirited public dialogue and fact-based education about responsible infrastructure development; and we commit to conduct ourselves in a manner that will provide sustainable and broad-based economic and energy-security benefits for all. More information can be found at www.affordableenergyny.com.