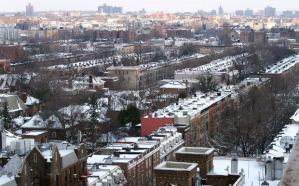 A recent op-ed appearing in Cranes New York Business highlights the need for expanding access to natural gas infrastructure in New York City.
The article was penned  by Charlene Nimmons, the former resident association president for Wyckoff Garden Houses in Brooklyn and the CEO of Public Housing Communities Inc.
Nimmons calls attention to the plight of thousands of New York City Housing Authority residents who were left out in the cold as the temperature recently dropped to record lows.
Nimmons says that New York's public housing heating infrastructure is in desperate need of improvements, including new boilers and improved natural gas access.
He writes,
"NYCHA is now saving tens of millions of dollars a year in fuel costs after converting a number of its buildings from heating oil to natural gas over the last few years, which is significantly cheaper. That money should be dedicated to further conversions, thereby creating a virtuous cycle where NYCHA is saving millions and millions more each year to fund its own capital program."
He continues,
"There is one potential problem with this plan, however: New York City is already maxing out on available natural gas during its coldest days. According to Con Ed, natural gas demand has increased 25% in the last six years."

"And the city's largest source of natural gas, Transco, set new records this month in the amount of fuel delivered. Groups like the New York Building Congress have warned this will lead to supply issues soon because there are not enough pipelines coming in to the city."
He specifically calls out a potential solution to to the issue, highlighting Williams' Northeast Supply Enhancement project. He writes,
"So government officials must also allow new connections to existing natural gas supply to fuel NYCHA's conversions to natural gas, creating our cycle of costs savings and repairs. Specifically, one project up for approval is the Northeast Supply Enhancement line, which would guarantee the supply needed for new conversions and increased demand. It must be built."
Read the full op-ed 
here
.