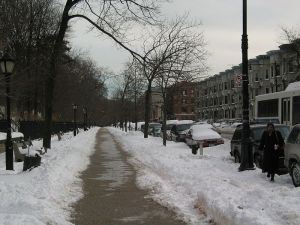 The New York Daily News recently reported that more than 320,000 public housing residents — or a staggering 80% — lost their heat or hot water at some point this winter.
As frigid weather conditions continue to hammer the Northeast, the importance of reliable, cost-effective energy infrastructure has been a hot topic of conversation.
"This winter had the worst cold snap in 50 years and it's pushed our aging equipment to the breaking point," New York City Housing Authority (NYCHA) spokeswoman Jasmine Blake told the Daily News.
Charlene Nimmons, the former resident association president for Wyckoff Garden Houses in Brooklyn, recently wrote that New York's public housing heating infrastructure is in desperate need of improvements, including new boilers and improved natural gas access.
"Government officials must also allow new connections to existing natural gas supply to fuel NYCHA's conversions to natural gas, creating our cycle of costs savings and repairs," Nimmons says.
In recent years, NYCHA has greatly benefited from the increased use of natural gas. Conversions of boilers that burn dirty heating oils to natural gas heating systems has significantly lowered energy costs while improving air quality, increasing the quality of life for residents.
According to a report from the Citizens Budget Commission, NYCHA saw a $48 million decrease in utility costs between 2013 and 2016, in large part due to costs savings from increased natural gas use, which is cheaper than heating oil.
The benefits of natural gas have greatly increased demand, however—and the current infrastructure is operating at capacity.
Williams currently delivers about half of the natural gas consumed in New York City through its Transco natural gas transmission pipeline. The company's proposed Northeast Supply Enhancement project would increase natural gas deliveries to the city while improving the dependability of existing energy infrastructure.
Click here to learn more about the Northeast Supply Enhancement project.