A new infographic produced by Williams highlights the important benefits of the company's proposed Northeast Supply Enhancement (NESE) Project.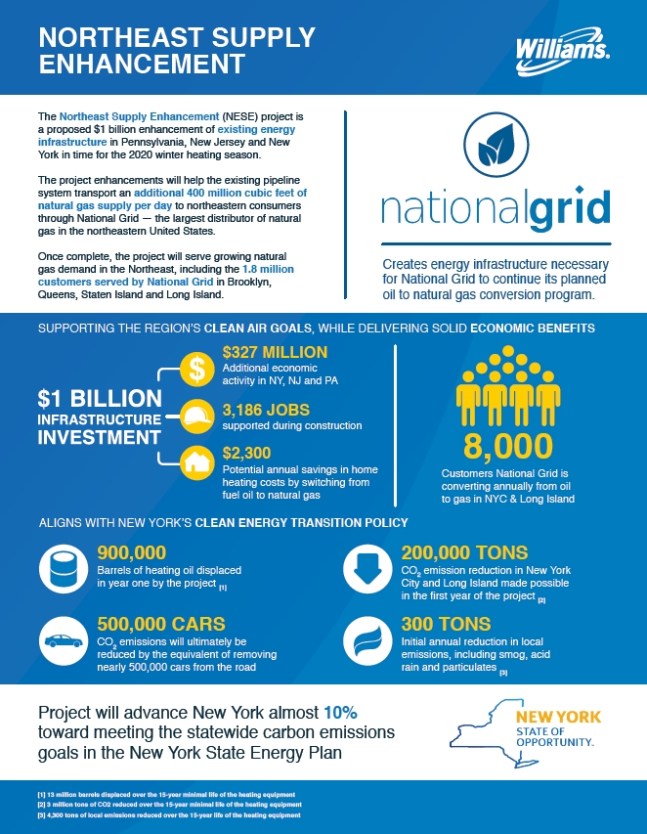 The NESE project is a proposed $1 billion private investment that will improve the region's energy infrastructure, allowing the existing pipeline network to transport an additional 400 million cubic feet of natural gas per day to consumers.
Additionally, the NESE project will:
Enable New York City to reduce local air pollutants by 300 tons in the first year, including smog, acid rain and particulates that have negative health and environmental effects on the State of New Jersey.
Allow National Grid to displace 900,000 barrels of heating oil, reducing CO2 emissions by 200,000 tons in year one. The project will ultimately allow National Grid to displace approximately 13 million barrels of heating oil and reduce CO2 emissions in New York City and Long Island by up to 3 million tons per year.
Generate $327 million in additional economic activity the tri-state area.
Support 3,186 jobs.
Have minimal impact on surrounding neighbors and the environment. The facilities will be largely out of sight, with virtually zero impact on noise or air quality.
Result in significant savings for consumers. The average residential customer has the potential to save  $2,300 per year in home heating costs by switching from fuel oil to natural gas.
Download the NESE infographic 
here
.