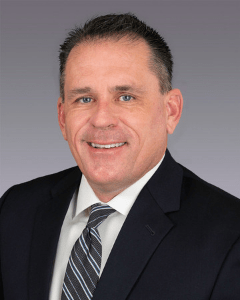 John D. Chandler
Senior Vice President, Chief Financial Officer
Professional Experience
John Chandler became senior vice president and chief financial officer for Williams in September 2017. Until 2014, he served as chief financial officer of Magellan Midstream Partners, L.P. beginning that role in 2002 in advance of Magellan's spinoff from Williams in 2003.
Chandler was an integral part of Magellan's strategy development and ultimate performance. In his time at Magellan, he oversaw all financial aspects for the company as it grew from an enterprise value of approximately $1.5 billion to more than $18 billion. During his tenure, Magellan also improved from a non-investment grade MLP to the highest investment-grade MLP in the sector.
Following his departure from Magellan, and prior to accepting his current role with Williams, Chandler served on the board of directors of USA Compression GP, LLC, the general partner of USA Compression Partners, LP; served on the board of directors of CONE Midstream GP, LLC, the general partner of CONE Midstream Partners LP; and served on the board of directors of Green Plains Holdings LLC, the general partner of Green Plains Partners LP.
Prior to his role at Magellan, he served in various financial roles at MAPCO, Inc. and at Williams following MAPCO's acquisition by Williams in 1998.
Education
Chandler graduated from the University of Tulsa in 1992 with a bachelor's degree in Business Administration, majoring in both accounting and finance. He completed his certification as a public accountant (CPA).
Industry/Community Leadership
He is an active member of the Board of Directors for Matrix Services Company. Chandler also serves on the boards of several community organizations including the Wagoner Education Foundation, Wagoner Community Outreach and the Tulsa Area United Way.