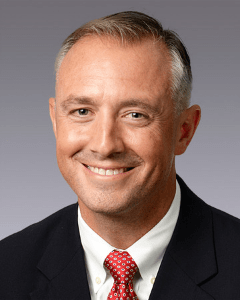 Scott Hallam
Senior Vice President, Transmission and Gulf of Mexico
Professional Experience
Scott Hallam became senior vice president of Williams' Transmission & Gulf of Mexico Operating Area in January 2020. Williams' Transmission & Gulf of Mexico Operating Area includes Williams' Eastern Interstates, Northwest Pipeline, and its Gulf West and Gulf East franchises.
Hallam has most recently served as senior vice president, Atlantic-Gulf, which included Eastern Interstates and the Gulf West and Gulf East franchises. Prior, Hallam served as vice president and general manager, Eastern Interstates in the Atlantic-Gulf Operating Area, where his responsibilities included overall operations and commercial activities for Transco Pipeline, Cardinal Pipeline and Pine Needle LNG. 
Previously, Hallam was vice president over operational activities in Williams' Northeast G&P Operating Area and prior to that, led Development and Operations in the Utica as a general manager for Access Midstream.
Previously, he performed in different leadership capacities in the upstream, midstream and downstream sectors, including time with Dominion Energy serving transmission and distribution responsibilities.
Education
Hallam holds an MBA in Organizational Leadership, a Master of Science in Environmental, Health and Safety Management and a Bachelor of Science degree in Chemistry and Biology. He is a certified Project Management Professional (PMP) and Six Sigma Black Belt.
Industry/Community Leadership
Hallam is a member of the American Petroleum Institute (API), the Ohio Oil and Gas Association (OOGA), the Project Management Institute (PMI) and the Air and Waste Management Association (AWMA). He is a board member of the Southern Gas Association and the United Way of Greater Houston. Hallam also a member of the Board of Directors for The Santiago Partnership.