Every year some of the natural gas produced in the United States is stored away so it can be used during the high-demand periods of winter and summer. The most common way to store natural gas is in large caverns underground. It can also be stored in smaller quantities in tanks above ground.
The gas is injected into underground storage typically late in the spring or early in fall. These periods are known as the "shoulder months" when natural gas demand declines with the mild weather. Building up gas inventories during these times ensures there is enough supply on hand when the seasons change and demand returns.
There is a direct correlation with seasonal temperatures and natural gas demand. Even though natural gas is often associated with home heating in the winter, it is also used to generate most of the electricity used in the United States. Therefore, in the summer months when demand for electricity to run air conditioners increases so does demand for natural gas.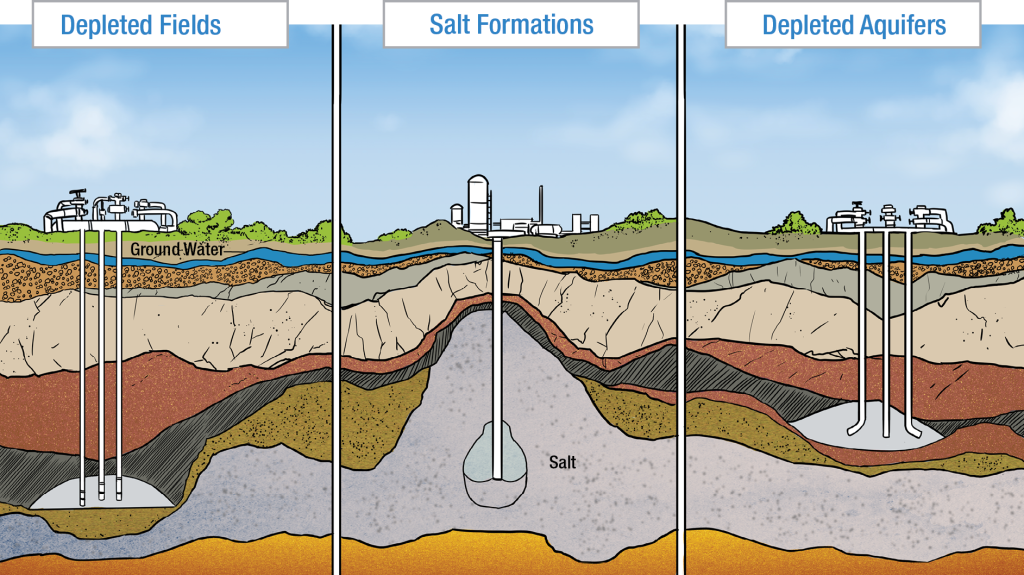 In 2021, the United States consumed approximately 30.2 trillion cubic feet of natural gas, according to the U.S. Energy Information Agency. Approximately 4 trillion cubic feet of natural gas can be stored and withdrawn for consumer use in the United States.
The United States uses three main types of underground natural gas storage facilities:
Depleted natural gas or oil fields—Most natural gas storage is in depleted natural gas or oil fields that are close to consuming areas.
Salt caverns—Most of the salt cavern storage facilities are in salt dome formations in the states bordering the Gulf of Mexico. Salt caverns have also been leached from bedded salt formations in states in the Midwest, Northeast, and Southwest.
Aquifers—Water aquifers that have water-bearing sedimentary rock formations overlaid with impermeable cap rock are used as natural gas storage reservoirs, most notably in the Midwest.
Smaller volumes of natural gas can be stored in tanks above ground. Williams operates one of the largest above ground storage facilities of its kind with enough capacity to store about two billion cubic feet of natural gas – enough to meet the daily needs of approximately 20 million homes.
Unlike underground facilities where the gas is injected in its current state, above ground storage facilities use a process called liquefaction to chill the gas until it changes to liquid. This allows a large amount of gas to be stored in tanks, providing additional service flexibility to transmission pipelines during the coldest and hottest days of the year.