We are responsible stewards, running our business with integrity and openness – the heart of our Core Values & Beliefs. Our policies are designed to provide our shareholders with company information that is accurate, timely and meaningful.
Our board and management team take several steps to strengthen the governance of the company and ensure compliance with the Sarbanes-Oxley Act and related Securities & Exchange Commission regulations.
While the board is not involved in the day-to-day operations of Williams, directors are kept informed about the business through discussions with the CEO and other officers, by reviewing analyses and reports provided to them on a regular basis and by participating in board and committee meetings. The standard practice for frequency of board meetings is to meet at least four times a year, however, the board meets frequently as necessary to conduct the business of the corporation.
The independent, non-management directors meet without the CEO present at the beginning of each regularly scheduled board meeting.
Williams has an organizational structure in place to address business ethics issues.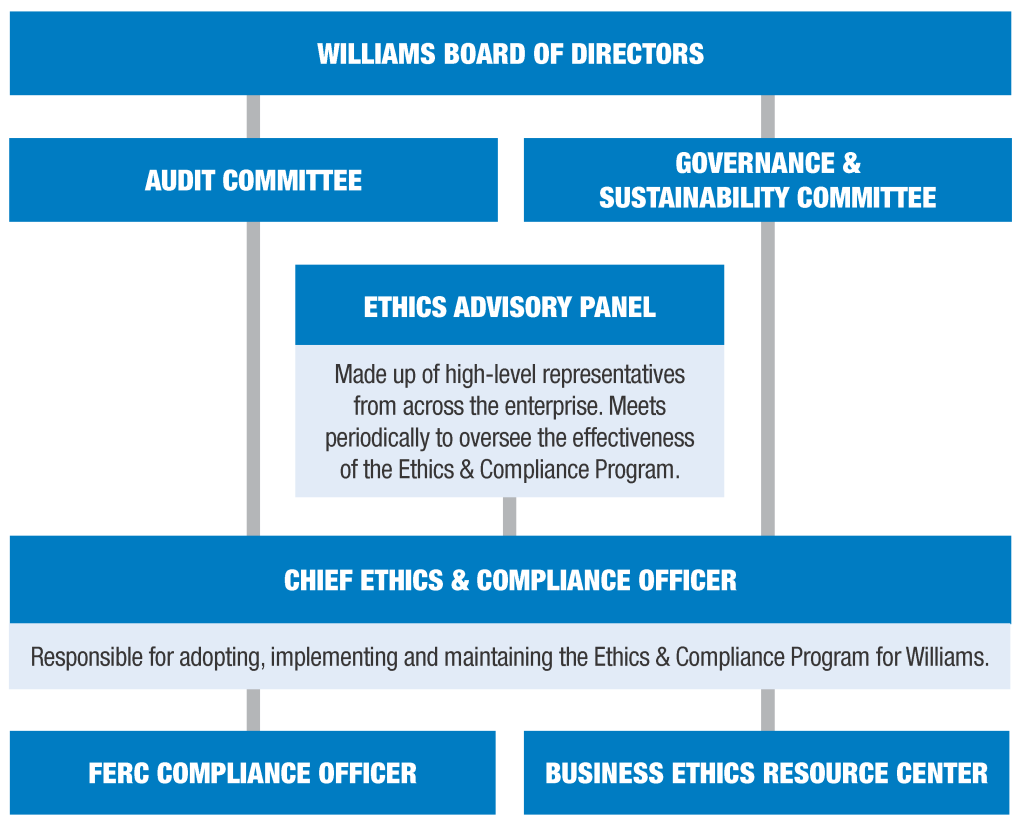 Our board of directors meets applicable independence requirements and is well positioned to carry out its functions as a governing body on behalf of our stockholders and unitholders.
The Code of Business Conduct provides guidance for our behavior, specific direction for corporate governance and provides resources for reporting our concerns or suspected violations.
The Code of Conduct for suppliers and contractors is available here.
We encourage our employees to report any suspected violations of laws, regulations or company policy. An employee should seek guidance from their normal reporting channels: supervisor, next levels of management or Human Resources. In addition, employees are welcome to contact the Williams Business Ethics Resource Center (BERC) at 918-573-3284, the Williams Action Line at 1-800-324-3606 or make an online report at www.williams.ethicspoint.com. The Action Line is operated by an independent third party to ensure confidentiality and is available 24 hours a day, seven days a week. Those reporting suspected violations may remain anonymous.
We all have a responsibility for promptly reporting unauthorized or unlawful activity. Speaking up is always the right thing to do. Williams understands employees may be reluctant to report violations if they believe the reporting employee will be subjected to retaliation. Williams prohibits and will not tolerate retaliation against anyone who reports a suspected violation in good faith, or against anyone who participates in an investigation. This includes blatant retaliation such as firing, transferring, demoting, or publicly attacking someone, as well as more subtle retaliation, such as excluding someone from an important meeting or team activity. If you ever feel that you have been retaliated against or threatened with retaliation, promptly report the matter to your HR business partner, the Business Ethics Resource Center, or the Williams Action Line.
To submit accounting or auditing concerns or complaints, please use one of the options below to report a concern or complaint about accounting, internal accounting controls or auditing matters:
Telephone/Web
(918) 573-3284
To report a potential violation anonymously, please call our Action Line at
1-800-324-3606 or online at www.williams.ethicspoint.com. The Action Line is operated by an independent third party to ensure confidentiality and is available 24 hours a day, 7 days a week.
Mail
The Williams Companies, Inc.
One Williams Center
Tulsa, OK 74172
Attn: Business Ethics Resource Center, MD 47
All such concerns or complaints will be received and processed by the Williams Business Ethics Resource Center and reported to the Audit Committee.
Public policy decisions can affect Williams' businesses and it is in the best interest of the company, its employees and stakeholders to be engaged in the political process at the federal, state and local level. Williams participates in the political process through contributions from the Williams Political Action Committee (WILLCO PAC) and through company contributions where legal and appropriate under state law.
Williams has guidelines governing corporate contributions which include prior written approval by the company's Vice President of Government Affairs & Outreach and Senior Vice President & General Counsel. All political spending will reflect the company's interests and not those of individual officers or directors. No contribution will be made in anticipation of, in recognition of, or in return for an official act by the recipient of the contribution. The use of company funds or assets for political purposes must be approved through the Vice President of Government Affairs & Outreach and Senior Vice President & General Counsel which, among other things, will obtain legal department confirmation that the proposed use complies with applicable elections laws, rules and regulations, as well as this policy.
As part of its oversight role in public policy, the Governance and Sustainability Committee of the Board of Directors reviews, at least annually, the company's political contributions including spending related to trade associations and other tax-exempt organizations. The Board also reviews spending guidelines.
Corporate officers are available for any questions pertaining to policy or procedures, purpose, and spending. Federal law prohibits companies from contributing to candidates for federal office, but many states allow corporate contributions to state and local candidates, committees, and political organizations and, where allowed, Williams may make such contributions. As described in the company's code of business conduct, any contribution of company funds or the use of other assets for political purposes must be approved in advance by the company's Vice President of Government Affairs & Outreach and Senior Vice President & General Counsel. Political contributions made with company funds outside the United States must be approved by the company's legal department, Senior Vice President & General Counsel, and President & Chief Executive Officer. Click on the years below for our archive of political corporate contribution reports:
2012
2013
2014
2015
2016
2017
2018
2019
2020
2021 (January – July)
2021
2022 (January – June)

2022
2023 (January – June)
Williams and WILLCO PAC make bipartisan contributions to political candidates and initiatives that support the advancement of energy infrastructure modernization and permitting, clean hydrogen policy, hydrogen tax incentives, and the interests of the energy industry in which Williams operates. In determining which candidates and initiatives to support, Williams and WILLCO PAC balance the views promoted by a candidate or ballot initiative, the qualifications and effectiveness of the candidate or organization to which the contribution is made and the appropriateness of the company's level of involvement in the election or ballot initiative. With respect to particular candidates, among other factors, the company considers the candidate's:
Understanding of our industry and support for our positions on issues concerning our businesses;
Position on key committees that consider legislation critical to our business interests;
Leadership position or potential for leadership;
Representation of districts or states where Williams employees or facilities are located; and
Viability as a successful candidate.
Williams belongs to a number of trade associations at the national, state and local levels. Williams will disclose all expenditures of corporate funds to these associations used for non-deductible lobbying and/or political expenditures under Internal Revenue Code Section 162(e). Click on the years below for our archive of these expenditure reports:
2012
2013
2014
2015
2016
2017
2018
2019
2020
2021
2022
Political Action Committee
Williams has a political action committee; WILLCO PAC. WILLCO PAC is a voluntary fund supported by Williams employees who choose to participate in the political process by pooling their resources to elect candidates who support a free and competitive economic system and who understand and support the interests of our businesses.
WILLCO PAC is an independent, non-partisan entity that raises voluntary contributions from eligible Williams employees and supports candidates for Congressional office and for state office, where Federal PAC contributions are permitted by state law. Contributions to certain national party organizations may also be made as appropriate. Employee participation in the WILLCO PAC is strictly voluntary and employees have a right to refuse to participate without fear of retaliation or reprisal. The company will not pressure or coerce employees to make personal expenditures in support of the PAC or take any retaliatory action against employees who do not participate. Employees who participate in the PAC will not be reimbursed for their contribution or any other personal political expenditure.
Contributions to the PAC are subject to written guidelines. Recommendations for contributions are prepared by Vice President of Government Affairs & Outreach, and with oversight by the legal department, President & Chief Executive Officer, Executive Vice President & Chief Operating Officer, Chief Financial Officer, Executive Vice President Corporate Strategic Development, and the Senior Vice President & General Counsel. The Federal Election Commission regulates WILLCO PAC's activities. Reports detailing its activities are available on the FEC website.
Lobbying Disclosure
Federal and state law requires Williams to report expenditures associated with activities that support lobbying. This includes expenditures associated with the activities of our employees and payments made to external entities and trade organizations. It is the responsibility of employees engaged in these activities to report their time at the required reporting intervals. Information on these activities and associated expenditures is available for public inspection on the U.S. House of Representatives Office of the Clerk website.
Gift Rules
There are very strict rules pertaining to giving things of value to government officials and employees, including officials and employees of foreign, federal, state, local, and other governments and agencies, whose rules, in some cases, include a complete ban on gifts. In the absence of specific written consent of the Senior Vice President & General Counsel, Williams employees are prohibited from giving gifts to government and regulatory officials or employees due to the potential appearance of impropriety and the potential for mistakes due to the complexity of the rules.
Williams makes reasonable efforts to track and report payments made to trade associations and other tax-exempt organizations that may be used for political purposes, such as lobbying activities that would not be deductible under section 162(e)(1) of the Internal Revenue Code. The following trade associations and tax-exempt organizations have informed the company that the following dollar amounts of our membership dues were used in support of lobbying activities and are not deductible. Lobbying activities do not include contributions to political campaigns.
To help us maintain the highest degree of transparency and guide our operations in the most ethical manner possible, we hold ourselves accountable to a series of governance policies and standards. Below is a list of relevant policies and standards.
---
Williams Board Committees and Charters
Board membership criteria
The nominating and governance committee is responsible for recommending new directors to the board. Director nominees must meet the following criteria:
Possess a background that demonstrates an understanding of business and financial affairs and the complexities of a business organization
Possess a genuine interest in representing all of the stockholders and the interest of Williams overall
Be willing and able to spend the necessary time required to function effectively as a Director
Have a reputation for honesty and integrity beyond question
Possess no conflicts of interest that would interfere with the duty of loyalty owed to Williams
Remain "independent" as defined by the New York Stock Exchange, unless a member of Williams' management
Number of independent directors
All of the directors on Williams' board are independent with the exception of the president and CEO.
Board compensation
The compensation committee recommends non-employee Director compensation to the full Board of Directors. The committee considers comparable companies' director compensation and also encourages Williams stock ownership to align the interests of the board members with the company's shareholders.
Board contact with shareholders, media, customers and other external parties
Williams' Board believes that the company's management and other appropriate personnel should handle inquiries from external constituencies. Questions about the company should be directed to the company's investor relations or public relations contacts found on www.williams.com.
Communications with Directors
Any stockholder or other interested party may communicate with our directors, individually or as a group, by contacting our corporate secretary or the Chairman of the Board. The current contact information is as follows:
The Williams Companies, Inc.
One Williams Center, MD 49
Tulsa, OK 74172
Attn: Chairman of the Board
The Williams Companies, Inc.
One Williams Center, MD 47
Tulsa, OK 74172
Attn: Corporate Secretary
Communications will be forwarded to the relevant director(s) except for solicitations or other matters not related to the company.
Audit
Committee
Compensation and
Management Development
Committee
Environmental, Health,
and Safety Committee
Governance and Sustainability Committee
Charter
Charter
Charter
Charter
Independent Directors
Stephen W. Bergstrom
x
x
Michael A. Creel
x
x – Chairperson
Stacey H. Doré
x
x – Chairperson
Carri A. Lockhart
x
x
Richard E. Muncrief
x
x
Peter A. Ragauss
x
x
Rose M. Robeson
x – Chairperson
x
Scott D. Sheffield
x
x
Murray D. Smith
x
x
William H. Spence
x – Chairperson
x
Jesse J. Tyson
x
x
Inside Director
Alan S. Armstrong
Audit Committee
The Audit Committee's purpose is to represent and provide assistance to the board of directors of the company in fulfilling its legal and fiduciary obligations with respect to matters involving the accounting, auditing, financial reporting and internal control functions of the company and its subsidiaries. In addition, the committee's purpose includes (a) representing and assisting the board's oversight of (i) the integrity of the company's financial statements, (ii) the company's compliance with legal and regulatory requirements, (iii) the independent auditor's qualifications and independence and (iv) the performance of the company's internal audit function and independent auditors; (b) preparing the report of the committee to be included in the company's annual proxy statement as required by the rules of the Securities and Exchange Commission (SEC); and (c) appointing and retaining the firm of independent public accountants with respect to the audit of the books and accounts of the company and its subsidiaries.
Compensation and Management Development Committee
The primary purpose of the Compensation and Management Development Committee of the board of directors of the company is to oversee and direct the design and implementation of strategic programs that promote the attraction, retention and appropriate reward of members of the Executive Officer Team and are designed to motivate the company's Executive Officer Team toward the achievement of business objectives and to align the Executive Officer Team's focus with the long-term interest of shareholders. The committee shall also approve and make recommendations to the board to assist in fulfilling its responsibility to oversee the establishment and administration of the company's compensation programs, including incentive compensation and equity based plans and related matters for employees subject to Section 16 of the Securities Exchange Act of 1934, as amended. The Committee will also oversee the compensation of the board's management directors.
Environmental, Health and Safety Committee
The Environmental, Health and Safety Committee of the Board of Directors is responsible for the duties delegated to it by the Board to enable the Board to (a) fulfill its governance and oversight responsibilities regarding the Company's management of environmental, health and safety ("EHS") matters, including compliance with applicable laws and regulations, and (b) ensure that the Company maintains a safety culture focused on protecting the health and safety of employees, contractors, customers, the public, the environment and its assets.
Governance and Sustainability Committee
The purpose of the Governance and Sustainability Committee. is to identify individuals qualified to become members of the board of directors of the company, consistent with criteria approved by the board and analyze and recommend to the board action with respect to corporate governance matters for the company.