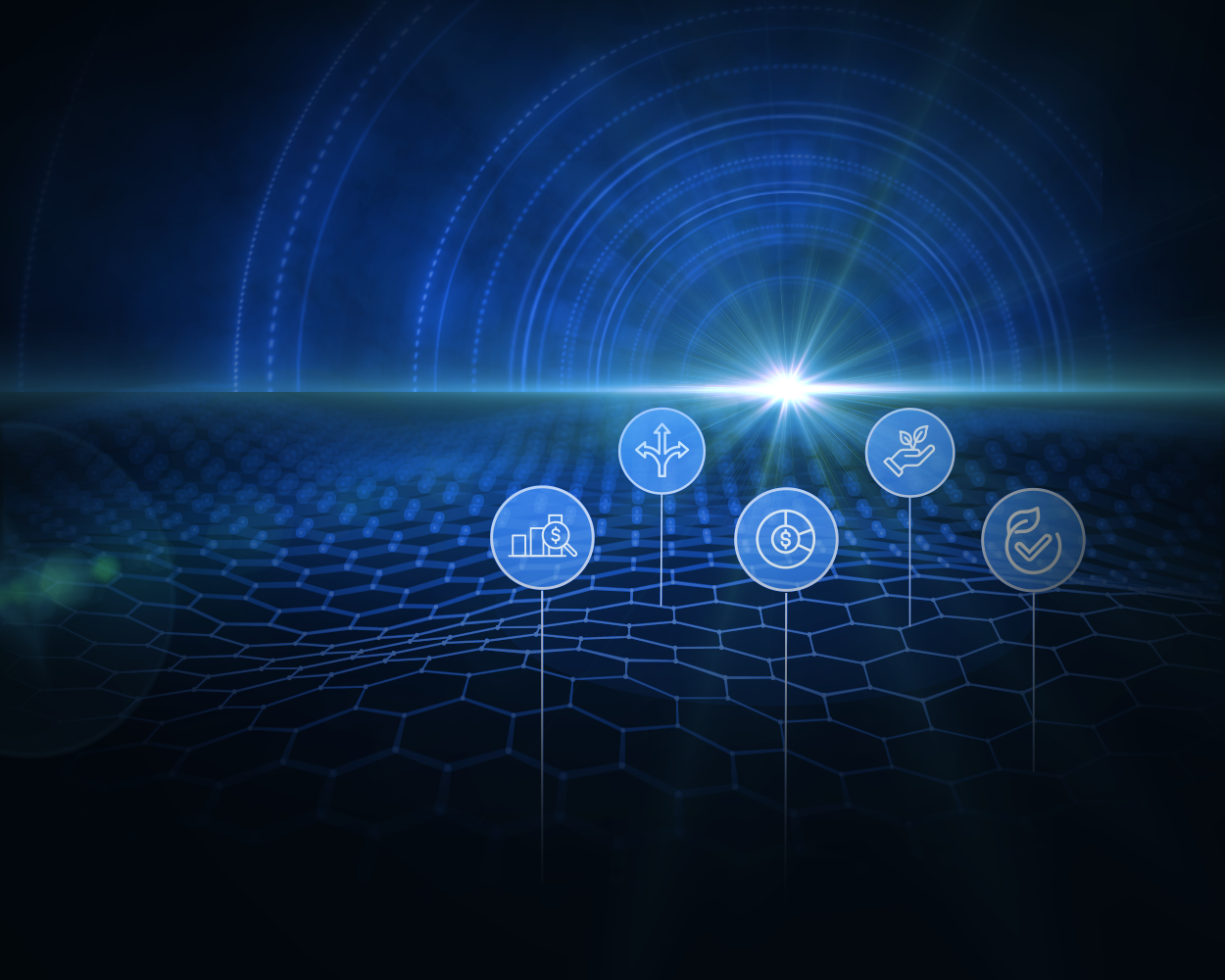 At Williams, we are committed to making clean energy happen. Our people, asset footprint and ability to successfully adapt as a business over the last 100 years has established a strong foundation to deliver clean, affordable and reliable energy well into the future.
As one of the largest energy infrastructure companies in the United States, we see firsthand the critical role natural gas plays in a viable and sustainable low-carbon future. Natural gas-powered electricity generation enhances reliability of the U.S. electric power grid and allows for growth in renewable forms of energy. Natural gas is also a current solution to reduce emissions while meeting demand for clean energy.
In 2021, we launched Williams New Energy Ventures, a business development group focused on commercializing innovative technologies, markets and business models. New Energy Ventures collaborates with talent across Williams to evaluate and implement projects to grow our clean energy business.
Guiding principles prioritize our areas of focus and investment
While we continue to focus on immediate emissions reductions opportunities at our natural gas assets, scaling renewables and building a clean energy economy – we are also looking ahead at future innovations and technologies. We use the following guiding principles to prioritize our areas of focus and investment.

Achieve carbon reductions for ourselves, our customers and partners – Since 2005, we have reduced our emissions by 44% and are on our way to meeting our 2030 goal of a 56% reduction. To achieve our low-carbon aspirations, we are collaborating with our current customers and new partners to reduce emissions and build a new sustainable business for the low-carbon future.
Create economic value with actionable investments – Solar installations adjacent to our operations reduce emissions and deliver economic benefits. We will expand these "right here, right now" opportunities while looking to invest in future clean energy projects and carbon abatement instruments not yet technologically or economically feasible today. As we see technology and market mechanisms mature, we will expand our investments to grow our economic value.
Target opportunities where our midstream competencies and infrastructure provide strong competitive advantages – As a premier energy infrastructure company, we have experience building, operating and maintaining major infrastructure to move, store and deliver energy on demand. We will use our natural gas-focused strategy, our infrastructure capabilities, and technical and operational competencies, to accelerate the clean energy future by pursuing new low-carbon opportunities.
Provide scalable options for the future – To match the size of the challenge and opportunity our clean energy future presents, we must focus on a wide range of scalable opportunities to create options for our larger ambition for the future.
ADVOCATING FOR CLEAN ENERGY
Our climate commitment supports the shared aspirations of our customers, community partners and governments. The scale of the global climate challenge requires all stakeholders to work together to innovate and develop the needed infrastructure. We are engaging with customers, industry partners and governments to collaborate on ideas and opportunities to accelerate our clean energy future to help them achieve their sustainability goals. We understand that energy needs are local and distinct, and we are working with industry associations, regulators and governments to advocate for consistent policies that support retrofitting, siting and construction of clean energy infrastructure.
PROJECTS CREATING NEAR-TERM VALUE
We are delivering projects to create near-term value and demonstrate our commitment to a clean energy future.
Energy Efficiency – Our business units are reducing methane emissions with new monitoring technologies, enhanced leak detection and repair, work practice improvements and evaluating equipment upgrades on a site-specific basis. We are planning, developing and executing projects to update and modernize our gas networks through initiatives ranging from large horsepower replacements to valve-actuator efficiency improvements.
Solar + Storage – Our Solar + Storage program creates an opportunity to offset current electricity usage at existing facilities with renewable energy by building photovoltaic solar and battery systems behind the meter. In addition, we are utilizing land within our existing land portfolio to build large scale Solar + Storage facilities for 3rd party energy demand. Our solar team is currently developing 16 solar projects totaling approximately 400 megawatts (MW) of solar capacity and 325 MW of battery capacity, targeted in-service in 2024. These solar facilities will generate renewable energy credits that can either be sold into the market or retired to offset Williams' Scope 2 emissions.
RNG – Renewable natural gas (RNG) is a low-carbon or negative-carbon substitute for fossil-derived natural gas that is typically produced from landfill waste, municipal water treatment facilities, livestock farms or food waste operations. Our RNG program includes constructing new interconnects and pipeline extensions, as well as investments in RNG production. These investments will generate environmental attributes that can either be sold into the market or retired to offset our own emissions.
NextGen Gas – We are working with our customers and technology partners to offer lower-carbon products, including end-to-end certified low emissions gas, known as NextGen Gas, and carbon-offset gas. NextGen Gas certifies that natural gas was produced and transported with low emissions across the value chain increasing trust and transparency regarding end-to-end carbon intensity for our customers and downstream markets. Carbon-offset natural gas is a bundled product of natural gas with an obligation to retire voluntary carbon offsets on behalf of customers. These products provide scalable and repeatable options to lower the emissions footprint of natural gas from the wellhead to the water or end-user.
NEW ENERGY VENTURES
Our plan to reduce emissions and innovate for the future.
FUTURE INNOVATION
CCUS – Our Carbon Capture, Utilization and Storage (CCUS) Development Program provides opportunity for natural gas to play an important role in the clean energy future. We can use our core competencies of project execution and safe operations to develop the significant infrastructure required to capture, transport and sequester CO2. To participate in the build-out of a CO2 economy, we are exploring:
Capturing CO2 at existing Williams gathering and processing assets, compressor stations and customer facilities
Repurposing existing, underutilized transmission assets for CO2 service
Sequestration partnerships to ensure captured CO2 will be sequestered permanently
Building, owning and operating greenfield CO2 infrastructure
Hydrogen – We are experts at treating, processing, storing and transporting gas, and this experience paired with our asset base provides opportunity to play a role in developing a new market with significant growth potential and to provide scale the hydrogen economy. We are actively working on projects such as:
Developing hydrogen pipelines and storage solutions
Blending hydrogen into our existing transmission lines
Production of clean hydrogen from electrolysis with renewable power (green hydrogen) and from NextGen Gas with CCUS (blue hydrogen)
Consuming hydrogen as fuel to reduce Scope 1 emissions
Producing synthetic natural gas from clean hydrogen combined with captured CO2
Renewable Power Generation and Transmission – Our Renewable Power Generation and Transmission Program explores how we could apply our experience building and operating critical natural gas infrastructure to the clean power space. As our participation in the power segment grows with our Solar + Storage program, we will explore synergies including Onshore and Offshore Power Transmission. Williams has a long history of success both onshore and in the Gulf of Mexico. Our in-house engineering, operations, commercial and regulatory resources create an opportunity to connect offshore clean energy supplies to onshore networks. We will explore reusing existing offshore platforms and infrastructure for clean energy production.
Clean Energy Hubs – Our clean energy hub exploration includes developing partnerships to create economies of scale and meaningful emissions reductions. Many of these emerging opportunities have significant overlap and synergies with each other and our core natural gas business.
We are exploring concepts including a Williams Wyoming Clean Energy Hub to integrate renewable power, hydrogen, captured CO2 and methanation into our existing assets, balancing the intermittency of wind and solar power to create a dispatchable, clean molecule to meet energy demand.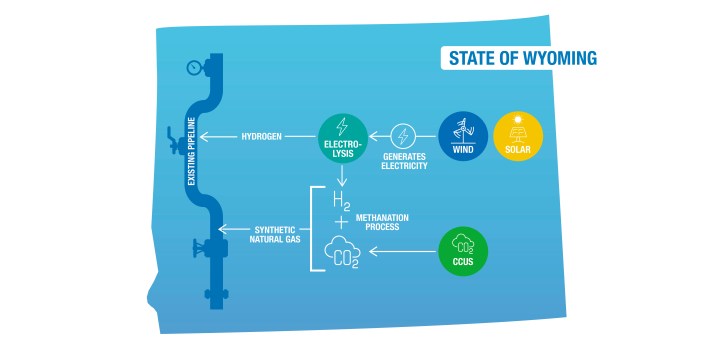 Other projects include potential CCUS hubs with multiple partners working together to gather CO2 emissions at scale. Due to the immense capital investment required and the complex nature of carbon capture project execution, CCUS hubs are the primary approach to achieve economies of scale and meaningful emissions reductions.
Our blue hydrogen hub scoping initiative includes exploring the possibility of producing and transporting large volumes of hydrogen created from natural gas with carbon capture and storage or use.
Corporate Venture Program – We have developed a corporate venture program to invest in innovation. Corporate venturing and partnerships with startup incubators, such as Greentown Labs, as well as direct investment in Aurora Hydrogen and Context Labs demonstrates our commitment to innovation by fostering technologies at the forefront of the energy transition. The program includes:
Direct investments into start-up companies
Participation as a limited partner in a fund set up specifically to invest in low-carbon technologies
Partnering with other like-minded companies with net zero ambitions to fund the development of technical solutions for decarbonizing energy intensive products or services
Carbon Markets – Our Carbon Markets Program will build our knowledge and capabilities in environmental markets. To improve carbon reduction efficiency, we will optimize environmental credits, including Renewable Energy Certificate (RECs) from solar, Renewable Identification Number (RINs) from RNG and carbon offsets generated from our own carbon reduction activities. As we advance our projects, we will use the environmental attributes for our own carbon reduction goals or sell the environmental attributes to generate returns and help our customers reduce their emissions.
---
Learn more about our ESG efforts
---
Subscribe to our Newsletter
Stay up to date with the latest news and events