Anticipation was high when the caravan of horse trailers pulled up to Wild Love Preserve in the high desert of central Idaho.
As the horses debarked, echoes of hooves on metal turned to gallops on green grasses with a melody of soft whinnies.
It was a long-awaited day for Wild Love founder Andrea Maki, a visual artist who has dedicated the last decade to protecting wild mustangs on their home turf in Idaho.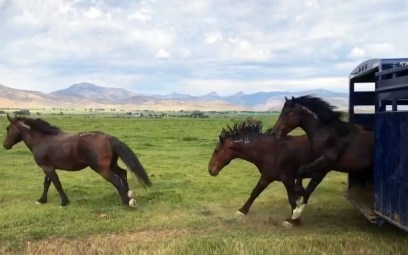 The 24 geldings that arrived that July day were the result of Maki's work with the Idaho Bureau of Land Management's Challis Herd Management Area.
As the horses finally bounded out of the trailers, Maki said she was both excited and immensely relieved.
"You can sense their trepidation turn to thrill as they realized this is freedom and they are greeted and welcomed by our existing wild horses," Maki said.
As result of the 2012 and 2019 BLM roundups, Wild Love now has 164 Challis-Idaho wild horses living on their longtime leased 400-acres, while fundraising to acquire a permanent 10,000-acre Idaho wildlife preserve.
The BLM's Challis herd is comprised of hardy stock that are generally larger than most wild horses that live in rugged, steep mountainous regions.
"Generally, a wild horse herd can double in size on the range every four years – triggering the need for BLM to gather the wild horses," said Heather Tiel-Nelson, a public affairs specialist for the BLM. "The collaboration and fertility control efforts of Wild Love Preserve have contributed to extending the time between gathers."
Williams has provided several grants in recent years to Wild Love Preserve. The funding has helped with operations while Maki continues to collaborate with ranchers, animal activists and government agencies.
"We are really proud of the partnership we have with Andrea," said Tiel-Nelson. "She's sacrificed a lot for her love for the wild horses in Challis."