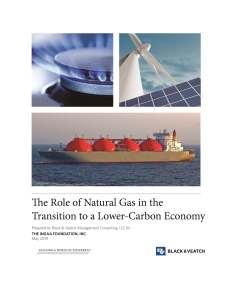 Natural gas will remain a significant contributor to the energy portfolio and to economic growth in the United States over the next two decades, playing a key role in meeting low-carbon goals, a new study commissioned by the INGAA Foundation finds.
Conducted by Black & Veatch Management Consulting, the report, "The Role of Natural Gas in the Transition to a Lower-Carbon Economy," presents a comprehensive analysis of the future role of natural gas and natural gas infrastructure in a greener economy over a 20-year period from 2020 to 2040. The study analyzes and compares two scenarios: a Balanced Future scenario, representing a balance of policy initiatives and market economics; and a Rapid Renewables Transition scenario, representing a transition heavily driven by policy and intended to accelerate the penetration of renewables in power generation.
"This research provides policymakers, key stakeholders and the industry context about the diversity of natural gas' role in our nation's economy and how natural gas – and gas pipeline infrastructure – will play an essential role in facilitating the transition to a lower-carbon energy economy," said INGAA Foundation President Don Santa.
The report's findings, supported by detailed modeling and industry subject matter expertise, are based on two future scenarios that consider different levels of renewable escalation and how these levels will affect natural gas demand, representing possible paths toward an energy portfolio that is increasingly reliant on renewable energy. In both scenarios studied, natural gas will play a key role in the transition to a greener economy, and natural gas infrastructure will continue to be needed.