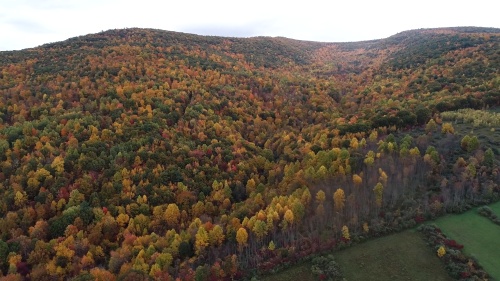 Residents and visitors to Northeast Pennsylvania can now explore a new addition to Pinchot State Forest – a 2,216-foot peaked mountain that is a stunning backdrop to the town of Tunkhannock.
Known locally as Miller Mountain, the 2,500-acre forested property was purchased with Williams' help to ensure its permanent protection and public access. It was believed to be the last undeveloped, privately owned peak of its size in Pennsylvania and now is the first state forestland in Wyoming County.
"I cannot wait to view the area from the top of Miller Mountain and take in the beautiful sights provided from its vistas," said Pennsylvania Department of Conservation and Natural Resources (DCNR) Secretary Cindy Adams Dunn.
Williams partnered with DCNR and The Conservation Fund (TCF) to secure the property, which has been a priority for conservation for decades, said Kyle Shenk, Northeast Regional Director for TCF.
"Miller Mountain is an iconic feature of the landscape here in Tunkhannock so it's wonderful to have it protected in perpetuity and open to anyone to come visit," he said.
Located in the Endless Mountains Heritage Region, the property provides critical habitat for migratory birds, black bears, white-tailed deer and bobcats, and supports headwater streams of the Susquehanna River watershed.
Williams, which employs more than 200 people in the area, welcomed the opportunity to support the project, said Chad Teply, Sr. Vice President of Transmission and Gulf of Mexico.
"We're excited about all of the recreational opportunities Miller Mountain has to offer to residents, visitors and our employees in Northeast Pennsylvania, while truly appreciating that critical wildlife habitat and watersheds are protected for generations to come," he said.
Local resident and conservationist Bill Kern said he's long championed the mountain's conservation.
"I grew up on the back side of Miller Mountain and spent my childhood recreating there," he said. "To see it permanently protected is one of the most important things to me in my life. And to know that others will be able to enjoy it, is just absolutely incredible."
DCNR staff is assessing the land to develop plans for trails and other recreational opportunities.
The property will be a big boost to local tourism and attracting industry to Wyoming County, said county commissioner chairman Rick Wilbur.
"The opening of Miller Mountain to the public is huge," he said. "It never would have happened without the generosity of Williams."
For broadcast quality video of Miller Mountain, email media@williams.com.