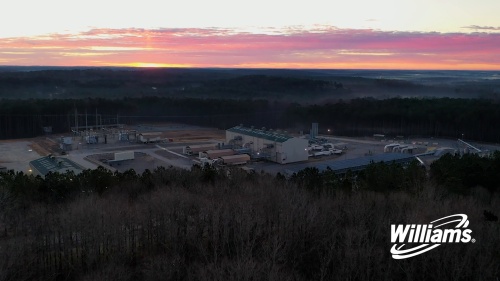 Williams is making good on its promise to safely and reliably meet today's natural gas needs, while investing in the next generation of energy solutions, as outlined in the company's 2021 Sustainability Report.
Demand for clean energy is on the rise and natural gas is playing a critical role in moving the world to a low-carbon future.
"As one of the nation's leading energy infrastructure providers, we are committed to leveraging our large-scale natural gas infrastructure for the benefit of tomorrow and generations to come," said President and CEO Alan Armstrong.
"We have prioritized our natural gas-focused strategy because we see firsthand the critical role it plays in providing affordable and dependable low-carbon energy while supporting the growth of renewables," he said. "At the same time, we recognize that more needs to be done to mitigate the risks of climate change and stimulate technology growth needed to build a viable clean energy economy."
New technologies
In 2021, Williams formed its New Energy Ventures team to drive the commercialization and implementation of innovative technologies and markets. By combining infrastructure, expertise and strategic relationships, Williams is developing pragmatic solutions such as solar installations to power Williams' facilities, renewable natural gas interconnects from dairy farms and landfills, and digital platforms that provide market transparency for responsibly sourced natural gas.
Williams also is working to incorporate clean hydrogen and carbon capture and storage into its existing network to serve some of the most populated areas of the United States.
Diverse and inclusive workforce
Building an empowered, diverse and inclusive workforce is key to achieving Williams' vision. In 2021, the company reinvigorated its employee resource groups with the goal of driving membership and inclusion across the enterprise. At the same time, recruitment strategies are increasing diverse representations across the organization as we work to attract, retain and develop the very best talent in the industry.
Community support
For more than 100 years, Williams and Williams employees have positively contributed to the local communities we call home through charitable giving, outreach and volunteer efforts.
In 2021, the company contributed over $12 million to more than 2,100 organizations across 48 states through community giving channels, including cash contributions, in-kind donations and matching programs, and employees recorded more than 23,000 volunteer hours.
Williams understands the direct link between sustainable business operations, corporate stewardship and long-term business success. As the world demands reliable, low-cost, low-carbon energy, Williams will be there.
Read more highlights from the 2021 Sustainability Report, along with ongoing ESG efforts.