Our energy challenge is complex. We need to meet increasing energy demand, while decreasing our carbon footprint and enhancing reliability – both here at home and globally.
Complex challenges require innovative solutions. Solutions that don't sacrifice reliability or affordability. Solutions that merge technology advancements with reliable infrastructure. Solutions that utilize existing assets and resources to meet ever growing demand.
At Williams, we remain committed to delivering these demands with a natural gas focused strategy that we developed years ago when others felt it was out of favor. Since doubling down on our vision for a clean energy future, this strategy has positioned us for a very bright future. A future that revolves around recognizing that our goal should not be to stop fossil fuels altogether. Instead, we must take advantage of today's creative sustainability initiatives and opportunities. Omitting fossil fuels completely is not a practical solution and we have to remember that the atmosphere only knows greenhouse gas reductions. It doesn't know or care where that reduction comes from.
Williams is leading in sustainability solutions, and that leadership is rooted in our longstanding dedication to innovation, growth and stability. These values have been at the forefront of our operations from the start more than 100 years ago.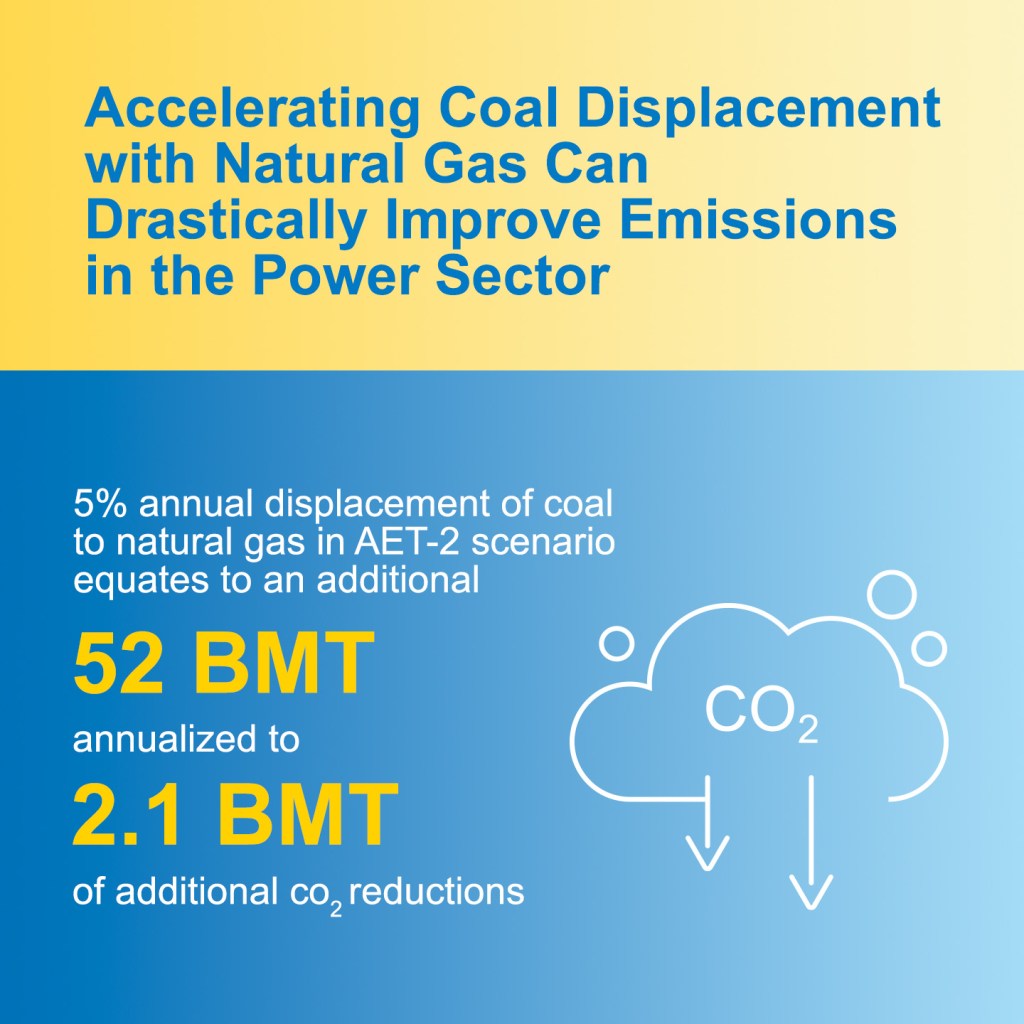 The economic and environmental impacts of coal displacement are powerful. For example, by simply displacing 5% of the existing global coal-powered generation capacity with natural gas, we could reduce CO2 emissions by ~2.1BMT each year. This reduction in global emissions would be equivalent to sequestering 2.6billion forest acres, adding 437,000 wind turbines or eliminating 457 million cars from the road for a year. That's double the number of cars driven in the U.S. today.
With the critical natural gas infrastructure that we possess, Williams is uniquely able to facilitate the transport of natural gas locally as well as overseas so that other countries can reap the benefits provided by natural gas. Among these benefits is affordability across the board. In fact, in the U.S., we've seen natural gas significantly reduce power sector emissions as its abundance improved its affordability. This has increased natural gas fired electric generation while reducing coal fired generation. When compared to propane, heating oil and electricity this winter (2021-22), natural gas had the lowest cost and the lowest emissions. These are fuels still being used today both domestically and internationally. And natural gas' abundance, especially in the United States, means that its low-cost translates directly to global energy security.
At Williams, we fully recognize the urgency of climate change and we're aligned in the desire for a sustainable clean energy future. We also know that natural gas is clearly a key fuel for reducing U.S. and global emissions. Williams is leading in future-focused technologies so that we can continue to add new natural gas delivery systems to displace higher emissions fuels. These innovations are already translating to right here, right now reductions in global emissions.
And, we are focused on executing our vision of an ecosystem where clean energy fuels and the fuels of the future are seamlessly integrated, connecting the cleanest available energy to all of our consumers.
In fact, we are doing this now. Williams has focused our efforts on reducing methane emissions via enhanced leak detection and repairs by implementing modernizing equipment and work practice improvements. We've started investing in technologies that directly track and measure emissions across our assets with state-of-the-art sensors, monitoring systems and satellite technology. We are developing solar projects that will enhance our solar capacity and offset 16% of the total estimated annual energy demand at Williams' facilities. We are constantly reimagining, creating and leading by retrofitting existing assets and building new infrastructure that can deliver renewable natural gas and eventually, hydrogen. Williams is committed to real time energy optimization and efficiency across the natural gas chain.
As an energy infrastructure company that transports nearly or approximately 30% of the nation's natural gas, we understand the difficulties in balancing high customer demand and existing technology with delivering reliable energy in a safe and environmentally responsible way. That's why we've committed to creating a cleaner future that can be measured. Our focus on sustainability is reflected in our improved ESG ratings and rankings. Recognized as the industry leader on ESG metrics, Williams is ranked #1 in industry peer group and included in the Dow Jones Sustainability World and North America Index.
While Williams is solving the energy challenges of today, our energy infrastructure and commitment to emerging technologies and fuel sources has us well-positioned to meet tomorrow's challenges.
As the world demands reliable, low-cost, low-carbon energy, Williams will be there with the best transport, storage and delivery solutions. We make clean energy happen by being the best-in-class operator of the critical infrastructure that supports a clean energy future.