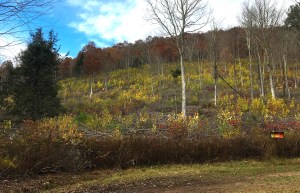 Williams recently participated in a cooperative effort between the Pennsylvania Game Commission, Ruffed Grouse Society, Chief Oil & Gas, and Energy Transfer Partners to improve grouse and woodcock habitat on State Game Lands 12 and 36 in Franklin Township, Bradford County.
The effort is the third and final phase of the 107-acre "Roughneck Aspen Management Project" designed to increase the amount of habitat acreage on state game lands.
The habitat, known as "early successional habitat," is being developed to meet the needs of wildlife requiring young forests to flourish. Species dependent on this habitat include ruffed grouse, American woodcock, golden-winged warbler, deer, bear and turkey.
The Game Commission and the Ruffed Grouse Society partnered with Williams and other energy companies to plan and execute the project.
"These energy development companies have interests on state game lands and are committed to giving something back to wildlife and sportsmen," said Game Commission Land Management Group Supervisor Phil Kasper.
"The Roughneck Aspen Management Project is a prime example of how a wildlife agency, partnering with conservation organizations and industry, can make large-scale impacts on wildlife habitat within the commonwealth."
Game Commission personnel provided technical support and oversight for the project, while Williams and other energy companies employed contractors and provided funds to harvest timber.