Earlier this year, Williams announced its membership in The Environmental Partnership – a collaboration of industry leaders focused on improving environmental performance. Fast forward to today, The Environmental Partnership just released its 2020 Annual Report.
It does not take an environmental expert to see why this program is important and how the expansion to include midstream companies is critical to reaching goals of responsibly developing our nation's essential natural gas resources.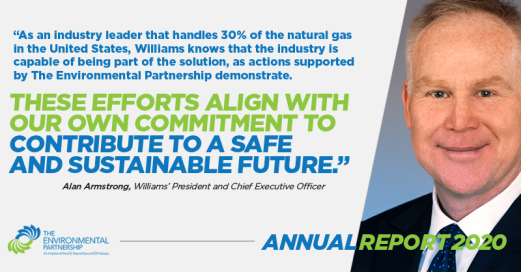 The program includes focus areas of detecting and repairing leaks, updating equipment with new low or zero-emitting technology, and reduction practices to minimize emissions during pipeline blowdowns.
"As an industry leader that handles 30% of the natural gas in the United States, Williams knows that the industry is capable of being part of the solution," said Alan Armstrong, Williams' president and chief executive officer. "These efforts align with our own commitment to contribute to a safe and sustainable future."
The Environmental Partnership's members are doing a great job and the 2020 Annual Report's numbers speak for themselves:
116 million component inspections performed
87,000 sites surveyed
44,000 (manual liquid unloading) events monitored to reduce emissions
13,800 devices replaced with updated equipment or technology to reduce emissions
Natural gas is a critical part of our nation's clean energy future and this collaborative effort provides immediate, practical solutions to reducing emissions and addressing environmental concerns.