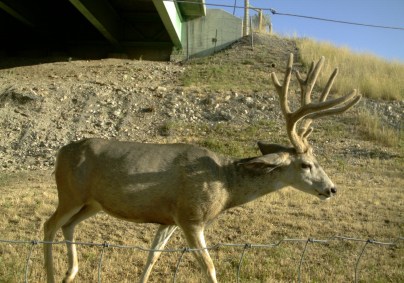 A Wyoming wildlife crossing project supported by Williams will protect motorists and migrating animals such as mule deer.
The Wyoming Game and Fish Department will construct special fencing to funnel wildlife to six existing crossing structures over 1-25 between Kaycee and Buffalo, Wyoming.
The 16-mile corridor boasts the second highest rate of collisions with deer on a Wyoming interstate. Already agricultural underpasses, bridges and culverts are in place but this phase will also add deer ramps, gates and cattle guards.
Williams contributed $10,000 to The WYldlife Fund in support of the program. That funding was matched by the Wyoming Wildlife Natural Resource Trust Fund.
"We thank the Williams Foundation for their generous gift and know that crossings are an effective way to make a positive and direct impact on our wildlife across Wyoming as well as keeping our drivers safe," said The WYldlife Fund President Mike Schmid.
Statewide, over 6,000 animals like deer, pronghorn, elk, moose, bighorn sheep and mountain goats die each year from collisions. This number may even be larger due to underreported crashes.
"We know 15% of all Wyoming crashes are with wildlife and that there is an average cost of $11,600 in injury and property damage per collision. The cost-effective approach of this project will save our wildlife and serve as a model for other projects like it throughout the west," Schmid said.
Kristy Stoll, a land rep for Williams, said employees must remain alert while driving to avoid collisions with wildlife. The wildlife corridors will help make daily travel safer.
"Taking care of our wildlife and our people is an important part of everyday life here in Wyoming," she said.