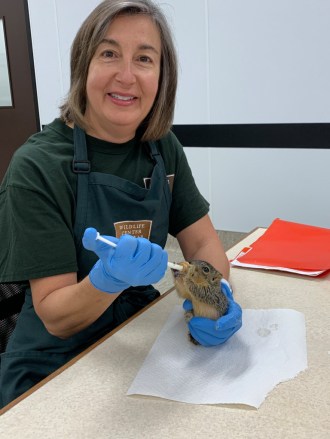 Marie Sotak has a lot of mouths to feed. Beaks too.
As a volunteer at the Wildlife Center of Texas, Marie spends most Saturday mornings feeding, caring for and cleaning up after any number of sick, injured or orphaned animals. In the spring, she's especially busy helping the hundreds of baby squirrels, opossums and birds rescued and brought to the center for help.
The birds include waterfowl, song birds and raptors likes hawks and owls. All require specialized care and feeding. Marie said baby song birds require near constant feeding and gobble up cat food, crickets and blackberries.
"The center will take in any injured or orphaned animal, whether it's a turtle, rabbit, fox or bird, rehabilitate them and if possible, release them back in to the wild," said Marie, an engineer in our Houston office. "It's a great feeling to be able to give back in this way."
The Wildlife Center of Texas was formed to meet the increasing need for wildlife assistance in the Greater Houston and Upper Gulf Coast regions. The Wildlife Center receives over 9,000 injured, ill and orphaned wild animals each year and is one of the largest wildlife care centers in the United States.
Volunteers like Marie, and support from companies like Williams, is critical to the center's success.
"The work is not glamorous but knowing that I am making a difference in my community and in the environment is what really matters the most," Marie said.