Williams is partnering with conservation groups to protect Wyoming's great outdoors.
The three projects include fence conversions to protect migrating deer, public access to hunting and fishing lands and educational programs for teachers and youth.
"Projects like these help build and foster relationships with regulatory agencies and also give back to the areas in which our employees live and work every day," said Jimmie Hammontree, regulatory affairs specialist for Williams.
Oh Deer
The 37,000-acre Grizzly Wildlife Habitat Management Area (WHMA) is an important habitat for mule deer. But development in past decades has hindered mule deer migration.
Williams is partnering with the Wyoming Game and Fish Department to convert about 25 miles of hazardous fencing in the area to a wildlife-friendly designs that will decrease entanglements and mortality during mule deer migration.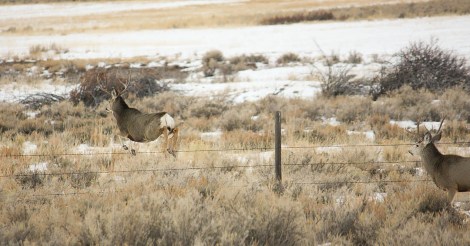 Mule deer migrate hundreds of miles across western Wyoming each year so need to move freely over great distances. Wildlife biologists say they time their migrations into the mountains to match the pace of the spring green-up.
The project will start this spring and be conducted over the next five years with five miles of fence conversion per year.
Saying Yes
Another project with the Wyoming Fish & Game Department is Access Yes. The department works with landowners to provide free hunting and fishing opportunities on private and inaccessible public lands.
For every $1 donated to Access Yes, nearly 3.5 acres of access, totaling nearly 2.8 million private acres, is gained for hunting and fishing opportunities. By that accounting, Williams is providing 31,000 acres of public access for hunting and fishing this year.
"We are grateful that the Williams Foundation cares deeply about supporting communities and helping provide access for sportspersons to enjoy," said Rick King, chief of the department's Wildlife division.
Conservation Education
Wyoming Project Wild is conservation and environmental education program that provides workshops and curriculum to educators as a way to connect Wyoming's youth with wildlife and the outdoors.
"We help students learn how to think, not what to think, about wildlife and the environment," said Lucy Diggins, director of Wyoming Project Wild.
Williams support will help the program purchase manuals and provide teacher workshops this year in Wyoming, she said. Children as young as three benefit from the hands-on curriculum in which teachers are trained. Eleven workshops are planned this year.
Brian Taylor, a senior project manager in Green River, Wyo., said it's not just good business to support conservation efforts, it's the right thing to do.
"Like energy, wildlife is a major player in the Wyoming economy. Williams is a good neighbor and wants to be part of conservation efforts like Project Wild, which promotes responsible stewardship for future generations of Wyomingites."