Williams is helping complete conversion of the long-abandoned Northern Electric Trolley corridor in northeast Pennsylvania into a recreational trail for hikers and bikers.
In advance of National Hiking Trails Day on June 4, The Conservation Fund and Countryside Conservancy announced the protection of an 18-acre property in Dalton that is one of the final remaining sections needed to connect and close the recreational trail gap between Dalton and La Plume, Pennsylvania.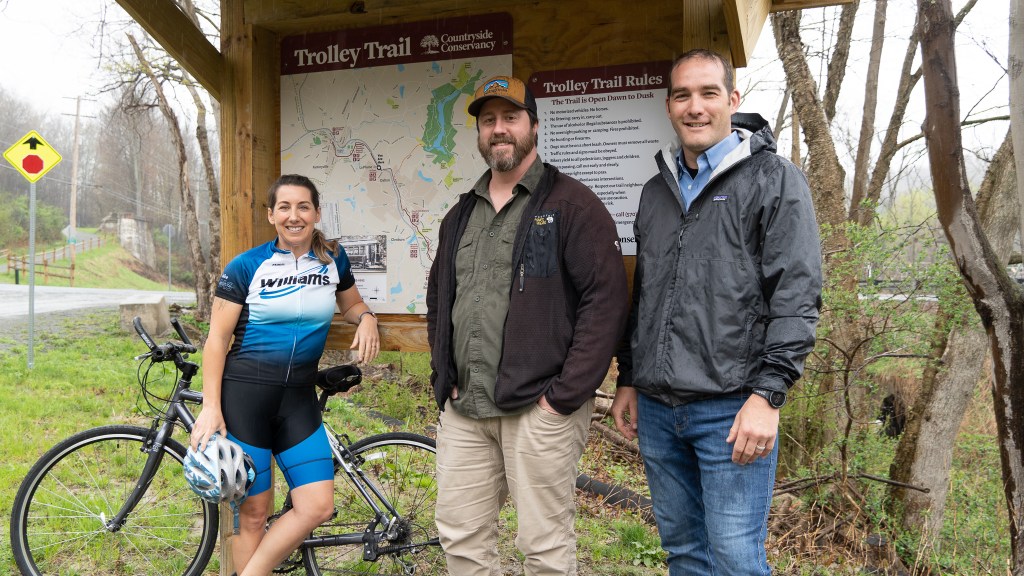 The land was purchased with funding from Williams and donated by The Conservation Fund to Countryside Conservancy. The property will be used to expand the existing Trolley Trail, a potential 14-mile path for non-motorized recreation along the Northern Electric Trolley corridor.
"Partnering with The Conservation Fund to complete the Trolley Trails project is a meaningful way to provide recreational opportunities, while also preserving resources for future generations," said Mike Atchie, Williams' director of community and project outreach. "As responsible stewards in the communities where we live and work, Williams is committed to positively affecting the lives of those who live near our operations."
The Northern Electric Street Railway operated an interurban trolley line between Scranton, Lake Winola and Montrose from 1908 to 1932. Countryside Conservancy is working to turn the right-of-way into a recreational trail that connects Clarks Summit, Glenburn, Dalton, La Plume, Factoryville and, eventually, Lake Winola.
"Countryside Conservancy is thrilled to be the recipient of this generous donation from The Conservation Fund, made possible by Williams," said Bill Kern, executive director of Countrywide Conservancy. "The potential economic and public health benefits for expanding the Trolley Trail will positively impact the local towns and residents for decades to come, and this property will hopefully play a pivotal role in that expansion."
The project will create new opportunities for residents to get out and enjoy the outdoors right in their own backyards, said Kyle Shenk, The Conservation Fund's northeast regional director and Pennsylvania state director. "Support from companies such as Williams is incredibly important to protecting priority natural lands and enhancing recreation opportunities here in Pennsylvania and throughout the country."
Lynda Schubring, manager of permitting at Williams, said employees and neighbors alike will benefit from the recreational trail.
"Williams has a lot of people who work and live here in Pennsylvania. This is our trail system," she said. "We're neighbors to the people around us. And we just want a better environment for our children to grow up in."
Learn more about the trail at countrysideconservancy.org/trolley-trail.