Effects of Superstorm Sandy are still being felt in the Northeast and Williams is supporting our employees, friends and neighbors with grants to organizations on the front lines of relief efforts.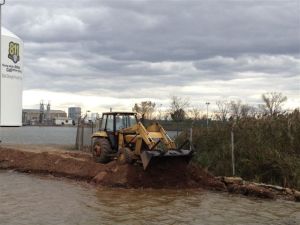 Some of our pipeline facilities in New Jersey flooded. Our folks – many of whom had home storm damage themselves – worked continuously to get operations back online. For Williams employees who were initially impacted, gift cards were provided by the company to help with immediate personal needs.
Additionally, Williams matches employees' charitable contributions for relief efforts, dollar-for-dollar up to $5,000.
Four local organizations have been identified for initial grant support:
Rockaway Point Volunteer Fire Department.  This fire station – located closest to our planned pipeline and compressor station in lower Brooklyn – was totally destroyed by the superstorm.
Rockaway Youth Task Force.  This grassroots group empowers inner-city youth to volunteer and make a difference in their community. Its clients continue to provide boot-on-the-ground relief efforts in the severely-damaged area of south Brooklyn.
Stephen Siller Foundation Hurricane Relief Fund.  Named for a deceased New York City firefighter whose bravery on 9-11 inspired many, the Stephen Siller Tunnel to Towers Foundation has spearheaded relief efforts on Staten Island, one of the hardest hit areas of the natural disaster.
American Red Cross of Northern New Jersey. This chapter of the American Red Cross is directing relief efforts in some of the region's most highly impacted areas, including neighborhoods where impacted Williams employees live and where Williams' flooded facilities are located.
We encourage others to make personal contributions using the links above. In addition, National Red Cross Disaster Relief has established a donation page for Hurricane Sandy at http://www.redcross.org/charitable-donations.