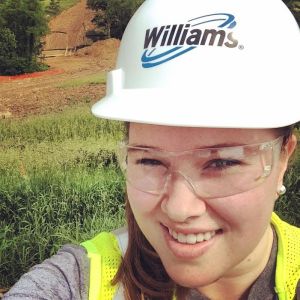 Hey, I'm Liv! I recently graduated from West Virginia University (Let's Go Mountaineers!) where I got my degree in mechanical engineering. I interned with Williams in the Northeast during the summer of 2014. After graduation, I joined Williams' Professional Development Program (PDP). For my first rotation, I moved to Salt Lake City to work in pipeline engineering.
Recently, I've been fortunate to attend a couple of fantastic trainings outside of Williams. One was an environmental seminar held by the Federal Energy Regulatory Commission (FERC) and the other was a pipeline design workshop held by the Southern Gas Association (SGA). At both trainings, I was able to meet people from other companies that live all over the United States. That is one of the great things about attending these types of trainings – the opportunity to network with and learn from professionals throughout your industry.
It's a coincidence that networking has been a recent hot topic for my young professional peers. We've been discussing ways to build strong AND lasting connections in our company, especially early in our careers. It's also important to make those connections outside of your company.
There are all kinds of ways to make connections in your industry. Attend trainings or conventions, join professional groups and participate in events, especially if you know there will be an opportunity to network. Once you've made a connection, form a relationship and keep in contact. Establishing those relationships outside of your company takes more work, but it's worth it! Just because they may not be the people you call on every day doesn't mean they won't be important to your success in the future!