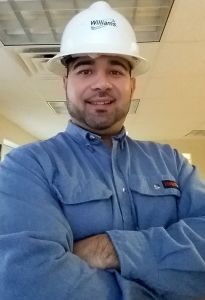 Seven years ago, Peter Hoos was managing investment portfolios. But when the bubble burst in the financial sector in 2008, he knew it was time for a career change.
"There weren't many options for high-paying jobs in Susquehanna County, so I decided to go back to school to get my foot in the door of the gas industry," said Hoos.
With the hope of landing a high-paying, stable job in the burgeoning natural gas industry, 28-year-old Hoos enrolled at Lackawanna College in New Milford in 2010 in a two-year Natural Gas Technology curriculum. The program was introduced by the college at the Susquehanna County center in 2009.
Hoos, originally from Pennsylvania, said his curiosity about the natural gas industry initially motivated him to take the class. "I thought it was intriguing," he said. "It seemed like a great opportunity to get in on the ground floor of something big."
Williams has partnered with Lackawanna College to support the school's Natural Gas Technology program. The company donated an $80,000 dehydration unit to the school in 2013, providing students with an opportunity to gain valuable hands-on experience. Dehydration units are used by the industry to remove water from natural gas and natural gas liquids.
Williams has also provided Lackawanna College with scholarship support and opportunities for internships with the company.
Today Hoos is an Operations Technician with Williams and one of several Lackawanna College graduates currently employed by the company. He says the education he received at Lackawanna was huge in preparing him for his current career.
"I never saw myself doing this, but the program at Lackawanna gave me the tools I needed to begin this new chapter in my life," he said.  "It has been a great opportunity for me."
Williams has a continued need for highly-skilled and trained employees – like Hoos – to fill critical operations positions.