"Anyone who stops learning is old, whether at 20 or 80. Anyone who keeps learning stays young. The greatest thing in life is to keep your mind young." – Henry Ford
Hi, my name is Eulojio. I am scheduled to receive my industrial engineering degree from Oklahoma State University this December. I have been an engineering Intern for Williams for four summers in both field and office positions.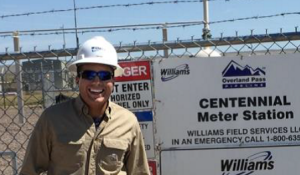 My first internship in 2014 was in Tulsa where I worked with Project Development. The next year I was at the Susquehanna Supply Hub in Tunkhannock, Pennsylvania, and worked with the Engineering Technical Services. Last year, I worked on the Overland Pass Pipeline in Green River, Wyoming. I enjoyed getting to see the pumps that push the natural gas liquids (NGLs) from Opal, Wyoming to Conway, Kansas. I traveled throughout the Overland Pass Pipeline and got to see most of the sites. This year I am back in Tulsa, working in the Safety group in Technical Training and Knowledge Services. I'm learning about the many processes that go into creating trainings thanks to the expertise of my team and their commitment to safety.
These varied experiences have helped me understand the overall business of Williams and how we can continue to grow as a company. I have learned that having an open mind, expressing new ideas and asking questions creates opportunities for involvement that benefit me in the long run by molding me into a more knowledgeable person. I have been very fortunate to be around some amazing people at Williams who have taught me their wisdom and helped to shape me into the person that I am today.
As I continue to grow, my experiences continue to show me so much about the business and what we can do to continue to drive economic growth for our country and also how to operate on the highest level. Every role in the company is important. Williams has helped me reach my personal and career goals by being very supportive and helping me see how engineering helps our day to day tasks and how important it is to do things the right way the first time around.