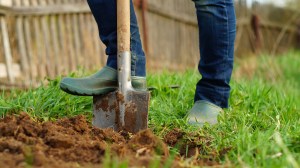 I was driving home through my neighborhood the other day and I was pleased to see flags marking the different underground utilities in one of my neighbors' yards. This told me that my neighbor, or the contractor they hired to do the work, was familiar with the need to call 811 before digging on a project.
Unfortunately, not enough people know they need to call 811 before they dig, or if they do know, they choose not to – thinking that it is too much of a bother. Even though the process is quite simple, a staggering 45% of homeowners who plan to dig this year said they would NOT call 811 beforehand. This is a decision that puts themselves and their neighbors at risk.
Being in the industry, I know how important it is to call before I dig, but at a recent Home Owners Association meeting I was surprised to find many of my neighbors did not know they needed to call 811 before starting a project that involved digging, even a small project like planting a tree.
Please make sure that calling 811 before starting a digging project is a topic at your neighborhood meetings and if your neighborhood has a Facebook page, share the information and a link to the Call 811 website.
August 11, or 8/11, is designated as Call 811 Before You Dig Awareness Day, so be educated, be aware, and always Call 811 Before You Dig.
Barbara Hasbini, community relations specialist senior and 19-year Williams employee, wrote this post.