Welcome, Williams intern class of 2020! This summer, 29 students join the company from 15 universities, spanning nine states.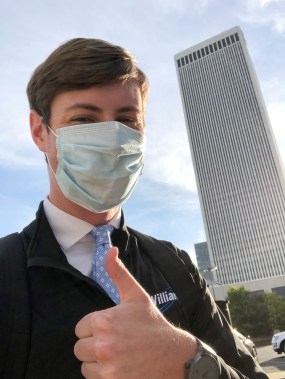 Reporting for the first day of work looks a little different this year since the program was adjusted to fit our "new normal." Most interns picked up laptops, met managers and mentors, then returned home with a remote onboarding agenda.
While some companies adjusted and rescinded internship offers due to the pandemic and economic downturn, it was important to Williams to deliver on the commitments made last fall.
"When we shifted to a work-from-home environment in March, we had to take a hard look at our intern placements to make sure we could provide a safe work environment that still enabled participation in meaningful work," says Williams Senior Vice President & Chief Human Resources Officer, Debbie Cowan. "Students depend on these opportunities to help them reach future career goals, and it was important for us to find a way to keep our commitments and maintain our summer internship program."
Right now, that means extra precautions that meet CDC guidelines related to COVID-19, including work-from-home arrangements rotated with time in the office adhering to strict social distancing and other CDC-recommended hygiene practices. It also means that some interns were reassigned to different teams so they could remain closer to their homes.
"I was really impressed with the willingness of our Williams teams to step up and help us realign internship assignments," says Williams Employee Development Consultant, Mackenzie Gwinn. "It took a lot of effort on everyone's part to find a way to make the program work. Some gave up intern resources they were looking forward to having, while others stepped in and agreed to take on additional mentoring and development responsibilities for these students. At Williams, we really are in it together!"
It will be interesting to follow our 2020 intern class as they navigate an unconventional internship. Check in at the Williams Newsroom for updates throughout the summer.