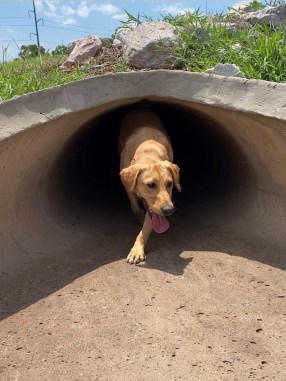 Piper, the search and rescue dog in training sponsored by Williams, is ready to start saving lives.
The yellow lab training at Ground Zero Emergency Training Center in Tuttle, Oklahoma, has passed a national certification that will allow her to search for live missing persons.
The National Association for Search and Rescue (NASAR) organization tested Piper's abilities, including finding a volunteer hiding in a 60-acre property. She had 90 minutes to do it but found the person in less than four minutes.
"She is one special girl that we know will save lives," said Piper's foster mom Terri Jungels. "Ground Zero is currently working with Oklahoma Emergency Management to complete all documents so that she will be able to be called out anywhere in Oklahoma on a live-find case."
Jungels said Piper will continue to train on other types of search and rescue.
Ground Zero was founded by Barry and Becky Switzer after they saw the need for more specially trained search dogs after the 1995 Oklahoma City bombing. The organization provides elite canines at no charge to first responders in multiple states.