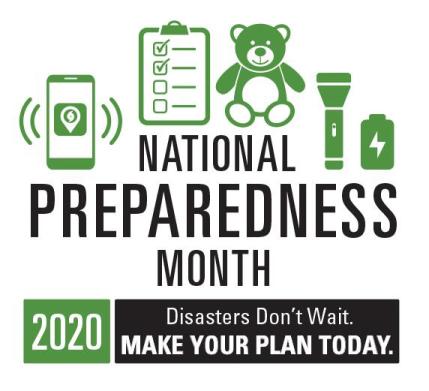 National Preparedness Month is recognized each September to promote family and community disaster planning now and throughout the year. The theme this year is "Disasters Don't Wait. Make Your Plan Today."
With hurricane season already in high gear, it's important to be ready for any situation. Here are some tips from ready.gov.
First, make a plan. Your family may not be together if a disaster strikes, so it is important to know which types of disasters could affect your area. Know how you'll contact one another and reconnect if separated. Establish a family meeting place that's familiar and easy to find
Take into account Centers for Disease Control recommendations regarding COVID-19. If you need to take shelter in a public setting, practice social distancing and wear masks if possible.
Gather supplies, including medications, that will last for several days after a disaster for everyone living in your home. Don't forget to consider the unique needs each person or pet may have in case you have to evacuate quickly.
For example, you need one gallon of water per person per day for at least three days to meet drinking and sanitation needs.
Prepare for disasters to limit the impacts on you and your family. Know the risk of disasters in your area and check your insurance coverage. Learn how to make your home stronger in the face of storms and other common hazards and act fast if you receive a local warning or alert.
Talk to your kids about preparing for emergencies and what to do in case you are separated. Reassure them by providing information about how they can get involved. "Preparation for any potential disaster is key," said Brian McCoy, director of enterprise security for Williams. "Don't wait to make your plans and gather supplies because in an emergency, every minute counts."