Williams is a proud employer of military veterans and active duty service members. The skills, training and characteristics developed during service directly align with our need for adaptability, quick learning, accountability and effective project execution.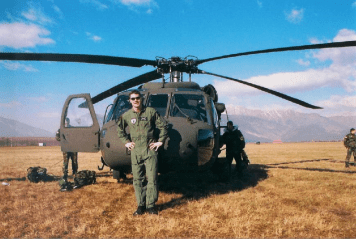 Brian McCoy, a former U.S. Army Blackhawk pilot and West Point graduate, said his transition to civilian life at Williams has been fulfilling.
McCoy started as a field engineer before becoming an operations leader and now director of enterprise security. He says there are commonalities in safeguarding his country and the nation's energy infrastructure.
"There are a lot of similarities between the military and Williams in that you are providing a service for the country," McCoy said. "We are keeping the lights on for the citizens of the United States by providing clean, reliable and affordable energy."
McCoy said flexibility and a willingness to learn are traits that many veterans bring to the workforce.
"Across the board, there has always been adaptability in the veterans I have worked with, as well as a sense of pride in what they do. They see a problem and they bring solutions."
Chad Zamarin, Sr. Vice President of Corporate Strategic Development, said Williams long has recognized the value that military service brings to its workforce.
"Veterans and those serving in the reserves bring new skills and exceptional work ethic to our company," he said. "On behalf of Williams, I sincerely thank those who have served our country and who currently serve, as well as the families who support them."