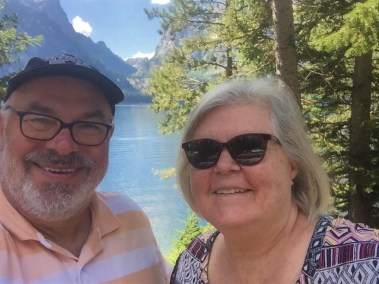 Name: Mont McNeil
Former role: Senior Tax Planning and Research Consultant
Number of years with Williams: 30 (21 in Tulsa, nine in Houston with Transco)
Number of years retired: Since March 2018, so almost three.
How have you been spending time in retirement? I've been enjoying the usual retirement things with my wife Kristy — traveling, home projects, enjoying our kids and grandkids, lots of long walks, just seeing what every new day brings.
We've taken a couple of long driving vacations — last year started by going to Denver to see our son Eliot (also former Williams) and his family, then up through the Black Hills and the Dakotas, through Montana (lots of wide open space!) to Glacier National Park, then into Canada to enjoy Banff and the Canadian Rockies (where we bumped into another Williams tax retiree, Cindy Wade!), then down through the Tetons, Salt Lake City, and back through Denver on the way home.
This year we drove up through the Great Lakes states, the one part of the country we had never visited. In all we've been to 27 states and Canada since retiring.
I've also taken a few classes through Tulsa Tech and Jenks Community Education to try my hand at upholstery and voice-over recording, and have done some music arranging for our church — after a 35 year career relying on my left brain as a tax attorney, it's been fun to give my right brain some time. We're also starting to make plans to build a second home in Kamas Valley, Utah (near Park City), where I grew up.
Are you involved in any community/volunteer activities?  Until COVID-19 upended everything, we had been volunteering regularly with Meals on Wheels of Tulsa. In addition, I have continued in the Reading Partners literacy mentoring program at Sequoyah Elementary which I started doing through Williams's involvement, although that program has also been suspended during the COVID-19 restrictions. Looking forward to having both those activities returned to full activity soon. We are also very active in supporting our church community.

So far, what has been your favorite thing about retirement? I'd say just the flexibility to do whatever we choose. I truly enjoyed my work and my co-workers throughout Williams and am proud of the good work we do. But once you release your focus on one thing every day, it opens the door to everything else, and I am grateful we have the health and resources to enjoy and explore new things. (Also: taking a nap!)