A tiny house and tiny fish brought Tunkhannock High School students to Patriots Cove as part of several programs sponsored by Williams.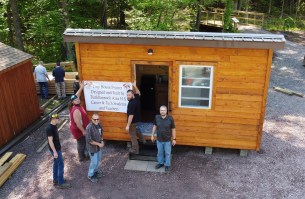 Patriots Cove is an 18-acre refuge in northeast Pennsylvania that offers fishing and other activities for military veterans, first responders and caregivers.
Last month, students released trout fingerlings as part of a Trout in the Classroom project into sheltered waters at the cove, where it's hoped they will grow big enough to fish.
Another group of students installed a tiny house for volunteers to stay in during events like the annual Fish for the Fallen tournament, which was held a few days later with the help of Williams volunteers.
Dozens of students from the school's career and technology program built the tiny house over the past year, using skills learned in graphic arts, metal fabrication, engineering, woodshop and cabinet making classes. The house is fully functioning with electricity, heat and air and plumbing.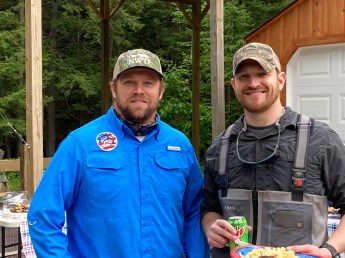 Additional support was provided by the Pennsylvania Department of Conservation and Natural Resources and the Department of Environmental Protection. John Pittenger, a liaison project manager at Williams, helped to steer a Williams' grant to the high school in 2019 to get the house project underway.
Williams also helped the school fund drone training for students so they can get their Part 107 Pilots License certification.
Tammy Bonnice, an employee in our nearby Tunkhannock office, was thrilled to see the projects culminate at Patriots Cove.
"We are so pleased to support both Patriots Cove recreation opportunities for veterans and first responders, as well as helping the students learn skills for their future," she said.