Long before D&I became a well-known acronym, Williams was walking the talk — and in multiple languages, said employee Jose Aristimuno.
When Williams leaders visited the company's Venezuelan facilities nearly three decades ago, the Americans insisted on communicating in Spanish with Aristimuno and other employees.
"Asking the team to speak Spanish was for me a great sign of respect and care about our culture that created a bond that goes beyond words," he said. "We were inspired under one goal, and that was to be successful."
Aristimuno also worked hard to learn English and later left his native country to oversee operations around the United States for Williams. The engineer now is a manager of projects in Houston and a member of the Latin Employee Resource Group (ERG).
He said the company's diversity and inclusion journey continues to evolve, but with the same basic goal – to unify teams and break down barriers so all employees feel appreciated for their contributions.
What is your philosophy around making everyone feel included?
It's important to show myself as vulnerable and just like another member of the team but with a different role and responsibility. This opens the door for trust and transparency and makes people feel that they are part of the team, that they can help and bring value.
Also, it's essential to identify common goals, whether company or personal. It is amazing what people can do if they feel included in and aligned in a common objective. Asking for and respecting people's ideas and their way of thinking fosters inclusion and understanding.
Why did you want to be involved in the Latin ERG?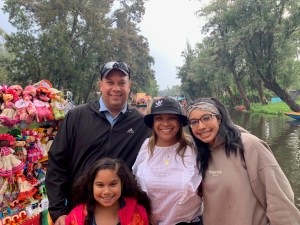 I saw in ERGs the opportunity to inspire others and help the company achieve our goals, and a great way to identify and retain the talent that we need to move into the future.
It has been meaningful for me to learn about people's stories, their aspirations, capabilities and their ideas. That connection inspires me and helps me to be a better person.
National Hispanic Heritage Month is Sept. 15 to Oct. 15. Why is important to commemorate?
It is a reminder of the importance and the values that the Hispanic culture has contributed to America for decades. Also, it educates the new generation about aspects of their normal life with origins from the Hispanic culture, like food, music and arts. Most importantly, it's a celebration of our ongoing journey to create inclusion for all, starting with education, understanding and acceptance of those different than yourself.
What activities does the ERG plan?
The Latin ERG will host a guest speaker for all employees later this month and offer opportunities for employees to sample cultural foods, music and traditions at several locations.
Learn more about diversity and inclusion at Williams.