Williams Wellness Program
The Williams Way to Wellness Program is designed to promote wellbeing and long-term health by rewarding participants – employees and their eligible spouses or domestic partners – for health-focused activities like diet, fitness, prevention, stress, sleep, financial and others. We use Rally® by UnitedHealthcare to track and manage the program.
All employees and their spouses and domestic partners who are enrolled in the Williams Medial Plan are eligible to participate in the 2022 program and may earn up to $300 each in 2023 Williams Medical Plan premium discounts and other incentives.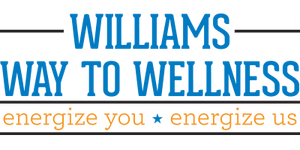 Sign up on the Rally® by UnitedHealthcare program site at http://www.RallyHealth.com/Williams or with the Rally app (code: WILLIAMS01)
Complete your Health Assessment and Biometric Screening by Sept. 30 ($100)

Both are required to earn additional incentives

Both also must be complete before other activities will not be reflected as complete

NEW this year, in addition to on-site screenings or submitting a physician's form, participants may visit a Quest lab for their Biometric Screening

Complete three Challenges within a quarter Jan. 1 – March 30, April 1 – June 30 and/or July 1 – Sept. 30 ($50 per quarter)

Challenges must be tracked daily

If you forget to track your activity you may be able to manually add your progress to the current date for credit

Complete three Missions within a quarter Jan. 1 – March 30, April 1 – June 30 and/or July 1 – Sept. 30 ($50 per quarter)

May be tracked retroactively for up to one week
Complete up to three UHC-based Programs through Sept. 30 (rewards range from $10-25 per activity
Rewards for participating in a wellness program are available to all eligible employees and spouses or domestic partners who are enrolled in the Williams Medical Plan. If you think you might be unable to meet a standard for a reward under this program, you might qualify for an opportunity to earn the same incentive by different means. Email Williams Way to Answers and we will work with you (and, if you wish, with your doctor) to find a different means for you to qualify for the incentive. Requests are required within a reasonable time prior to Sept. 30, 2022. This program complies with the Health Insurance Portability and Accountability Act. The medical information you provide is only used by the administrators for purposes of the program and the medical plan. Williams reserves the right to amend or terminate the program at any time.
For more information about the Williams Way to Wellness program, contact Rally at 1-877-818-5826 or access the Help Center & FAQs at RallyHealth.com/Williams