Williams Wellness Program
The Williams Way to Wellness Program is designed to promote wellbeing and long-term health by rewarding participants – employees and their eligible spouses or domestic partners – for activities like diet, fitness, prevention, stress, sleep, financial and other health-focused efforts. We use Rally® by UnitedHealthcare to track and manage the program.
All employees and their spouses and domestic partners who are enrolled in the Williams Medial Plan are eligible to participate in the 2021 program and may earn up to $300 each in 2022 Williams Medical Plan premium discounts and other incentives.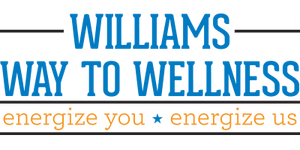 Get started

Sign up on the Rally® by UnitedHealthcare program site at https://www.WeRally.com/client/williams/register or with the Rally app (code: WILLIAMS01)
Earn $100 in Williams Medical Plan premium discounts for 2022 by completing your Health Survey on the Rally site and submitting your Biometric Screening (more information about possible on-site screenings will be provided when available)

Both are required by Sept. 30, 2021, to earn any additional discounts
Provides you with baseline wellness information to help you set individual goals and make program selections

Earn up to $200 in additional premium discounts by participating in and reporting designated activities on the Rally site that help you meet your individual wellness goals

All discounts must be earned by the end of the third quarter (Sept. 30, 2021)
Gain motivation through Challenges ($5 per challenge, complete up to five per quarter for a maximum of $25 quarter/$75 year)
Develop healthy habits based on your health survey with Missions ($50 when you complete a minimum of any three within a quarter for a maximum of $150 per year beginning April 1)
Use UHC-based programs and tools for Williams Medical Plan participants ($10-25 each)

Enter the Sweepstakes held at the end of the program year to win prizes; receive one entry just by registering on the site by Sept. 30 and earn additional chances with other program activities
Earn Rally Coins throughout the year by completing activities and using earned coins to bid on Rally-sponsored Marketplace items, purchase additional sweepstakes entries or donate to charitable giving opportunities (not redeemable for cash or discounts; coins roll over to future years)

Rewards for participating in a wellness program are available to all eligible employees and spouses or domestic partners who are enrolled in the Williams Medical Plan. If you think you might be unable to meet a standard for a reward under this program, you might qualify for an opportunity to earn the same incentive by different means. Email Williams Way to Answers and we will work with you (and, if you wish, with your doctor) to find a different means for you to qualify for the incentive. Requests are required within a reasonable time prior to Sept. 30, 2021. This program complies with the Health Insurance Portability and Accountability Act. The medical information you provide is only used by the administrators for purposes of the program and the medical plan. Williams reserves the right to amend or terminate the program at any time.
Contact

For more information about the Williams Way to Wellness program, contact Rally at 1-877-818-5826 or access the Help Center & FAQs at RallyHealth.com/Williams