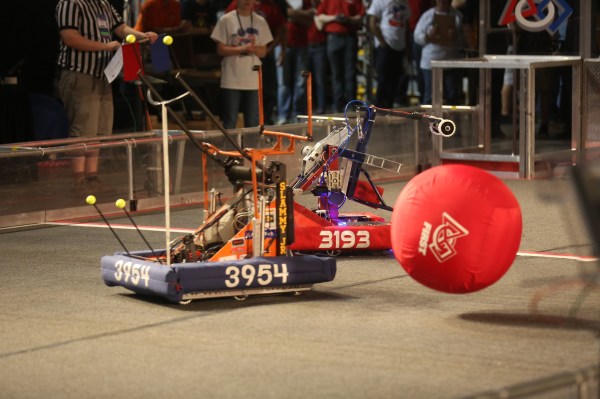 There is a lot of RECYCLE RUSH stacking and recycling going on at California University of Pennsylvania from March 4-7 as 54 teams compete in the Greater Pittsburgh Regional FIRST competition.
Pittsburgh FIRST is a regional branch of FIRST – the U.S. Foundation for Inspiration and Recognition of Science and Technology. The program inspires young people to be science and technology leaders, by engaging them in exciting programs that build science, engineering and technology skills, and foster well-rounded life capabilities including self-confidence, communication, and leadership.
Students in grades 9 – 12 design and build working robots, and then compete in a team format. The challenges are different each year from year so that even experienced teams are facing new situations. These are not small robots – they generally go up to 150 pounds, are four or five feet tall, and function autonomously.
Anyone familiar with projects in the 'real world' will likely be astonished at what these teams create in six weeks' time from the day they learn about that year's challenge until the competition. The schedule the students face requires teams to work together closely to bring out the best from each member.
Good luck to all FIRST teams, and especially the Westmoreland 4-H Gears from Greensburg, sponsored by Williams! To learn more, visit www.pittsburghfirst.org.