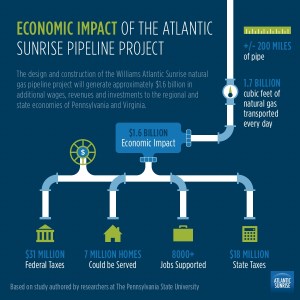 Williams today announced that the design and construction of the Atlantic Sunrise natural gas pipeline project will generate approximately $1.6 billion in additional wages, revenues and investments to the regional and state economies of Pennsylvania and Virginia, according to a study authored by researchers at Pennsylvania State University.
"Economic Impacts of the Atlantic Sunrise Pipeline Project" lead author Seth Blumsack, Associate Professor of Energy Policy at Penn State, finds that the proposed project would have a major, positive economic impact on the Pennsylvania and Virginia economies where new pipeline facilities would be built and operated.
According to the researchers, the design and construction of the Williams Atlantic Sunrise pipeline project could support approximately 8,000 jobs and an associated $870 million in economic value added during the construction period. Additionally, the ongoing operation of the pipeline would generate approximately $1.9 million in annual economic impact, supporting 29 jobs.
The economic modeling exercise was funded by Williams and uses IMPLAN, a widely used commercial software designed to perform input-output economic analysis, to estimate impacts on workforce demands, economic output and value added to each of the counties where construction is expected to occur. IMPLAN is used by state governments across the nation for economic modeling and predicting.
In a related report titled "Estimating the Impact of the Atlantic Sunrise Project on Natural Gas Consumers," lead author Andrew Kleit, Professor of Energy and Environmental Economics at Penn State, found that consumers served by the Transco pipeline in the southeast and Mid-Atlantic regions could have saved $2.6 billion from 2012-2014 due to increased access to lower-priced Pennsylvania gas supply because of Atlantic Sunrise.
"Penn State's report clearly shows how vital this project and others like it are for Pennsylvania's economy," said Gene Barr, president of the Pennsylvania Chamber of Business & Industry. "We need to take advantage of all of our natural resources, and the best way to do that is through more gas infrastructure."
"The Atlantic Sunrise expansion to the Transco pipeline is projected to support thousands of jobs during construction and thousands more in the drilling and supply chain industries," Barr said. "All told, we are looking at the potential for more than a billion dollars of economic activity as a result of this project."
The complete economic impact analysis is available at www.williams.com/atlanticsunrise. The site contains an economic impact tool that calculates economic impacts at each local level.