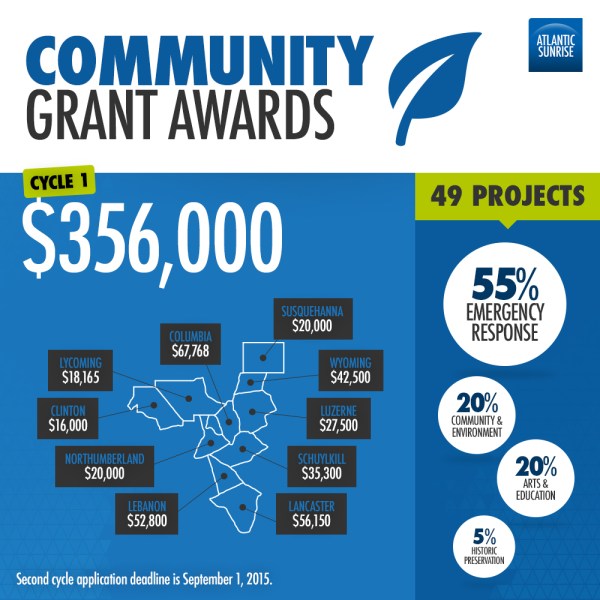 We are happy to announce the recipients of the Atlantic Sunrise Community Grant Program, awarding more than $350,000 to 49 organizations that reside in, and/or provide services to communities where the proposed Atlantic Sunrise project would be constructed and operated.
Eligible organizations receive grants up to $10,000 per applicant to fund projects that provide benefit to local communities or the environment.
"The community grant program is a way for us to demonstrate in a very tangible way that we want to be a good neighbor and support the communities where we operate," said Atlantic Sunrise Project Director Chris Springer.
"As we talk to communities, one of the things we've heard is that many people aren't familiar with Williams or its commitment to communities. Our goals is that through this program our neighbors will become more familiar with Williams and see that we are a 100-year-old company with a deep tradition of supporting the communities where our employees live and work."
View the list of recipients online.
Two cycles of grant awards will be announced each year. The next cycle of grant awards will be announced next fall.
Grant applications can be completed online at www.williams.com/atlanticsunrise.  Applications must be received by March 1 and September 1.