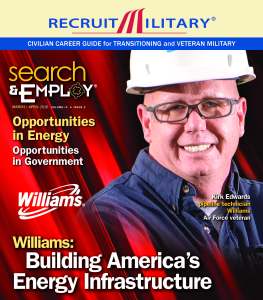 Kirk Edwards worked on heavy-duty aircraft with the U.S. Air Force for 20 years before transitioning to a career at Williams.
His story, "From Planes to Pipelines" is featured in the March/April issue of RecruitMilitary magazine. It describes how military veterans bring valuable skills to Williams' vast network of natural gas pipelines and related facilities.
"Our ability to quickly learn new skills, adapt to new environments, and respect the hazards that surround us in the workplace are skills that not everyone possesses," Edwards told the magazine. "Due to our history, many veterans have gained experience that will allow them to enter Williams with the ability to hit the ground running as we learn new responsibilities."
Veterans currently make up about 10 percent of the Williams workforce and historically have played a key role in the company with members of the founding family serving in World War II.
Edwards, who connected with Williams via LinkedIn, urges veterans to develop a strong resume and a mindset for transferring military skills to the civilian world.
"We are more than the job title we held in the military," he said. "We have years of experience dealing with a demanding, changing work environment. Many of us gained valuable leadership skills and a solid foundation in work ethic. Those are skills that cannot be taught overnight."
Watch this video to hear from more veterans working at Williams:
Click here for more information for veterans working at Williams.