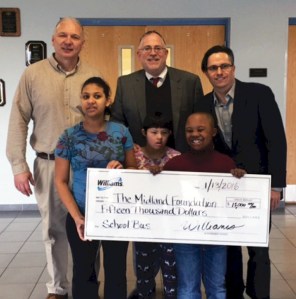 The wheels on the bus will continue to go 'round and round' at the Midland School in North Branch, N.J., thanks to the generosity of Williams.
Founded in 1960, Midland School is a nonprofit, comprehensive special-education school serving the individual, social, emotional, academic and career needs of children with developmental disabilities. The school currently serves 245 students ages 5 through 21 from 13 counties in New Jersey.
Michael Bedient, Williams Public Outreach Business Partner, and Mr. Russell Markowski, Williams Senior Operations Manager, came to Midland to present Shawn M. McInerney, the Midland Corporation's President and CEO, with a check for $15,000 to purchase a new custom school bus that will be used for field trips.
"This new custom bus will allow Midland students to safely explore and learn in the community," says McInerney. "Thanks to the generosity of the Williams Foundation, Midland can continue to offer our students the opportunity to gain new experiences, practice social skills, and experience education outside of the classroom—all essential to their development and success in the Midland program."
As an 'Adopted School' of Williams, Midland receives not only program funding, but also hands-on volunteerism support as well. Each year, pipeline workers help out with Midland's Field Day and it is the highlight of the event."We are very grateful for the continued support of the Williams Foundation, and their employees, who remain dedicated to the community where they work and live," says McInerney.