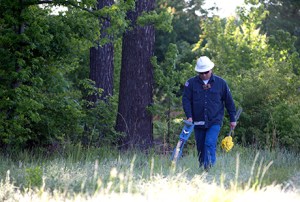 This is Line Locator Appreciation Week and Williams thanks our employees for their critical role in keeping property owners and excavators safe as well as preventing third-party damage to our pipelines.
Line locators are deployed to mark Williams' pipelines when excavators and property owners call 811.
The line locators face many challenges to get the job done, including busy roads, rugged landscapes, wicked weather and even rattlesnakes.
"Every day and every ticket is new challenge," said Roger Ramirez, a lead operations technician in Pearsall, Texas.
"We cover 1,100 miles of pipeline and work with a lot of landowners," he said. "You've got to take your time and do your job right."
Calling 811 is critical before starting any digging project, whether you are a homeowner, excavator or landscaper. Before starting any digging, the law requires you to call your local One Call center by dialing 811 to tell them when and where you plan to dig. In most states, One Call is a free service.
When a call is made to One Call, the operator of the underground utilities will visit the site and mark the location using spray paint on the surface directly above the utility line or by placing flags identifying the type of underground service.
Professionals like Roger will mark all underground utilities, keeping you and your property safe.
You can learn more at Call811.com.