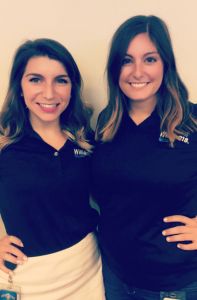 Hi everyone! Jessica and Bonnie here with College Recruiting. With classes back in session, it's time to start thinking about the upcoming Career Fair at the university you attend. Today we'll cover the top three Career Fair things to do to help you maximize your Career Fair experience.
Do: Research the companies you want to visit.
We recommend reviewing the list of companies that will be attending the career fair, deciding which of those companies you would like to visit and that are hiring for your major, and doing a bit of research around each one.
Do: Plan your pitch.
Upon meeting the recruiter, remember to greet them with these three things: a firm handshake, a smile and your name. It's also helpful to have a 15-20 second speech ready to go that briefly highlights your background and unique qualities. Make sure you have plenty of copies of your resume on hand as well.
Do: Dress professionally.
First impressions are extremely important! Professional attire is the best way to go. Dress for the career you want, not for the career you have.
Want to know what our young professionals have to say about working for Williams? Check us out on Instagram, LinkedIn and Facebook.
Our Williams Campus Ambassadors are gearing up and excited to meet you all  on campus. To view a full list of our 2016 Fall Recruiting Events and preregister, please click here.