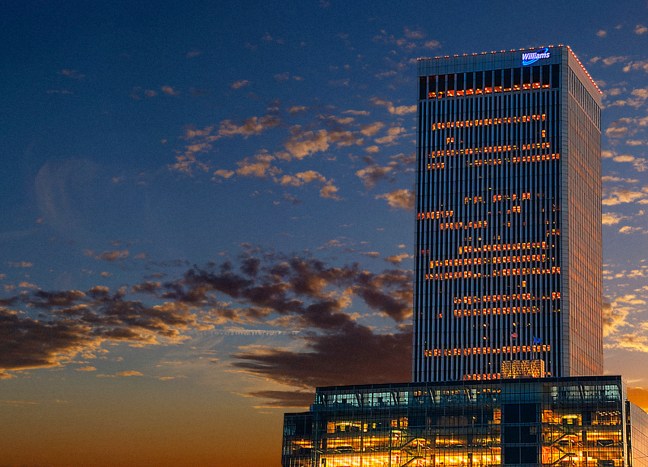 BOK Tower-Tulsa (Williams Center) Corporate Office
It's a big anniversary for Tulsa's biggest building. The BOK Tower (called by many, the Williams Center) turns 40 today. The home of Tulsa-based Williams' headquarters opened on Nov. 1, 1976. The 52-story, 667-foot office tower is the second tallest building in Oklahoma. On a clear day, you can see 40 miles in every direction from the upper floors of the iconic building. Williams broke ground on the Williams Center on Dec. 19, 1973. Brainchild of then CEO John H. Williams, he modified the architect's original two-tower plan when he stacked one model tower on top of the other during a meeting. Now beginning its fifth decade as a Tulsa landmark, the Williams Center continues to be the center of the city's vibrant business and cultural scene.
Read this article by Rhett Morgan of the Tulsa World about Tulsa's tallest building.
Watch former CEO John H. Williams discuss the design process:
[youtube https://www.youtube.com/watch?v=6xV58b0Ex1s&w=560&h=315]