Williams Project Director Chris Springer discusses the importance of collaboration and environmental stewardship in a recent blog post featured on the Conservation Fund's website.
The Conservation Fund is a national nonprofit dedicated to finding conservation solutions that balance environmental and economic needs.
A great example of environmental collaboration occurred when Williams partnered with The Conservation Fund in 2014 to identify opportunities to help offset impacts from a proposed $3 billion energy infrastructure project in Pennsylvania known as Atlantic Sunrise.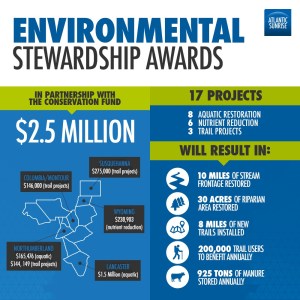 The Atlantic Sunrise project is an expansion of Williams' existing Transco natural gas pipeline, adding about 200 miles of new pipe in Pennsylvania. Once complete, the project will allow us to transport enough natural gas per day to serve the equivalent of about 7 million homes.
"We understand that obtaining the state and federal permits needed to construct such a huge project will require compensatory mitigation. Our goal in reaching out to The Conservation Fund wasn't to replace those requirements, but to create a model of collaboration that exemplifies Williams' commitment to communities by proactively identifying voluntary environmental enhancement opportunities that extend well beyond legally required mitigation."

He continues, "That's where The Conservation Fund plays such a critical role – helping bridge the gap between corporate compliance and enhanced environmental stewardship."

Read the full blog post here.