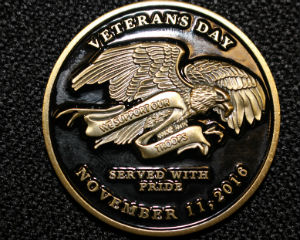 On this Veterans Day, Williams honors all employees who serve or have served our country in the armed forces.
Williams values the experience, discipline and skill set that comes from serving in the military, said Paul Boyett, director, Talent Acquisition.
"About one in 10 Williams employees is a military veteran, and Williams thanks them for their bravery, hard work and dedication," Paul said.
The skills and attributes that our veterans have honed through military experience continually benefit those who work with them, said Bud Rains, director, Construction Management, and sponsor of the Williams Veterans Business Resource Group. "Our veterans inspire Williams employees to do our jobs the right way and the best way every day."
Williams leaders honored our military veterans this week in our various locations, presenting each of those employees with a letter of gratitude and special commemorative coin.
In Pittsburgh, several employees spoke to students at a nearby elementary school before a luncheon to honor Williams veterans.
Larry Hoelscher, VP Engineering & Construction, thanked our veterans for their service, and said they bring leadership skills, dedication, discipline and integrity to the workplace.
The Pittsburgh office also ran a successful drive to collect home goods in support of Project Journey, which provides temporary and permanent housing for veterans.
The Canton, Ohio office kicked off an annual collection for items to send to our active duty troops overseas, collecting nonperishable food, personal hygiene items, books, games and music to help pass the time away from home over the holidays.