Williams is one of five recipients of the 2016 New York State Historic Preservation Award, honoring excellence in the protection and rejuvenation of New York's historic landmarks.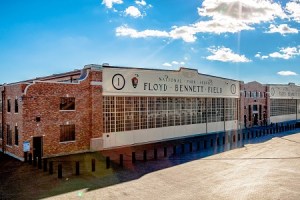 The award follows the restoration of Hangars 1 and 2 at Floyd Bennett Field in Brooklyn — the result of an innovative partnership between Williams and the U.S. National Park Service. The hangars were fully restored and adapted for use as a natural gas metering and regulating station as part of Williams' Rockaway Delivery Lateral project, which was placed into service in 2015.
"The rehabilitation of Hangars 1 and 2 at Floyd Bennett Field is a project we can all be proud of," said Joshua R. Laird, Commissioner of the National Parks of New York Harbor.
"It is an excellent example of how private partnerships and leasing can be used to preserve some of our most significant buildings. The process was a partnership beginning with the legislation required to allow this project to move forward all the way through to the completion of the construction. In addition to thanking NY SHPO for this award, we would like to thank the Williams team and the National Park Service staff for their collaborative efforts to ensure the preservation of this important building."
Williams' Rockaway Delivery Lateral project was designed to provide approximately 647,000 dekatherms per day of natural gas to National Grid's gas distribution system in Brooklyn, providing both supply flexibility and the ability to meet current and future incremental demand growth.  The project design included the installation of 3.2 miles of 26-inch offshore pipeline and a state-of-the-art, 60,000-square foot metering and regulating station.
Attempting to avoid the aesthetic impacts normally associated with the design and siting of metering facilities, Williams coordinated with the U.S. National Park Service to develop a plan to place the meter station on historic Floyd Bennett Field, inside one of the abandoned airplane hangar buildings.
For years the National Park Service had desired to address the deteriorating hangars, but limited funds had prevented the agency from pursuing any long-range refurbishment plans. That was until Williams approached the Park Service with an innovative idea to locate the gas metering and regulating facility in the hangars.
It took nearly four years to survey and study the building and design the rehabilitation — all the time working with National Park Service staff to ensure that it met the Secretary's standards.  The project also had to be approved by the New York State Historic Preservation Office (SHPO), which was significant due to the magnitude of the rehabilitation project.
"We saw this solution as a win-win-win," said Steven Kellogg, project manager for Williams' Transco pipeline.
"The Park and its visitors benefit by seeing historic structures restored, while sensitive environmental areas are protected. The city residents benefit from the additional gas supply that will allow homeowners and apartment buildings to switch from more expensive fuels.  And the region as a whole benefits from cleaner air and greater opportunities for economic growth."