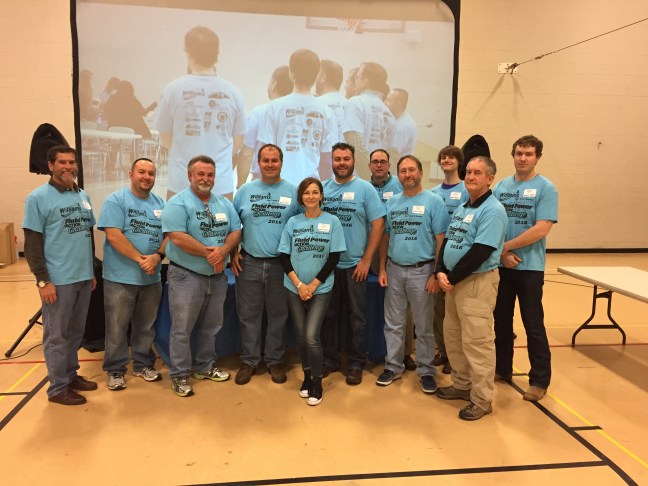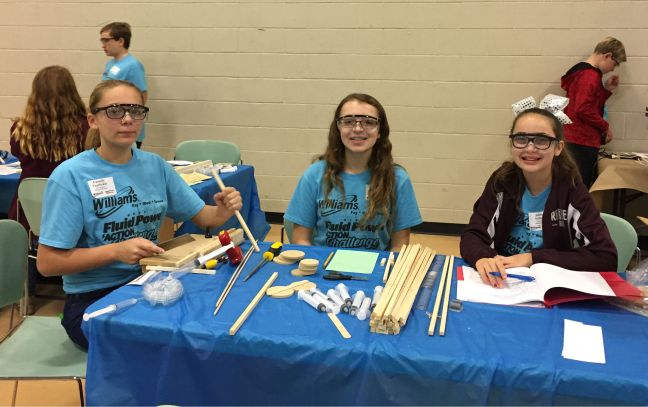 Students representing 29 Pennsylvania middle school teams from Fayette, Westmoreland and Greene counties recently convened at Penn State Fayette – Eberly Campus, for the third annual Williams Fluid Power Challenge.
The Williams Fluid Power Challenge, hosted by the Fayette Business Education Partnership, is a competition that gets middle school students excited about Science, Technology, Engineering and Math – STEM – based careers.  Preparing a skilled workforce is a top priority not only for Williams, but for the organizations that work together to form the Fayette Business Education Partnership, a coalition of local businesses and schools whose mission is to provide Fayette County with a well trained, world-class work force, said Muriel Nuttall, executive director of the Fayette County Chamber of Commerce, which administers the program. "The Williams Challenge provides the students with hands-on experience related to STEM disciplines, and insight into career options in technical fields."
Developed by the National Fluid Power Association, the competition consists of a Workshop Day and a Challenge Day and is designed to introduce the students, and their teachers, to the world of engineering and hydraulics.  During the Workshop Day, middle school students learn from Williams engineers about fluid power technology and gain hands-on experience about building a fluid power mechanism.   "These students come into the room with very little, if any, knowledge of hydraulics or pneumatics and within an hour or so they are beginning to design hydraulic lifts, as a team. It is a great interactive learning program." said Bud Rains, lead Judge for the competition and Williams Director of Construction in the Northeast. Returning to school, they work with their team on the design and portfolio to prepare for the Challenge Day.
Approximately six weeks later, students return for Challenge Day competition, where the teams of 4 middle school students build fluid power mechanisms of their own design that pick an object from one platform, rotate and place it on another.  In addition to the number of pick-and-place cycles a school's machine completes within 2 minutes, a review of each team's design approach, teamwork and portfolio is used in the final evaluation.  Williams engineers are on hand as judges and mentors to facilitate the competition.  "Every team brings a different approach and design to the competition, which is so fun to see" said Drew Powers, the Facilitator for Challenge Day and a Williams engineer returning for his third year. Outreach programs such as Fluid Power are important to promoting STEM careers. "These activities make STEM careers relatable to the real world," he said. "Kids can see us, the engineers, and what we do while they learn team building and project management.  Good skills for any career."
Watch a video from this year's competition: [youtube https://www.youtube.com/watch?v=rvrgcAruhTE&w=560&h=315]
Williams first sponsored this program in Allegheny County three years ago.  Overwhelmed by the positive feedback received from students, teachers, and volunteers, we have worked with organizers to expand the program into additional counties. Our vision is to help facilitate the expansion of this program across the Pittsburgh region through the SMC Business Councils education foundation, a Pittsburgh-based organization that focuses on small businesses and start-ups and host for the Williams Allegheny County competition. Both competitions are at capacity. Through the Challenges, the program aims to encourage students to select more mathematics and science courses in their high school curricula to keep their options open for technology-based post-secondary studies.  "Can you think of a better way to get our young people excited about technical careers than to provide them hands-on learning experiences like the Williams Fluid Power Challenge?"asks David Fair, CEO SMC Business Councils.
Stay tuned for the 2017 Williams Allegheny County Fluid Power Challenge coming this February to the Carpenters Union Building in Allegheny County for its fourth year.