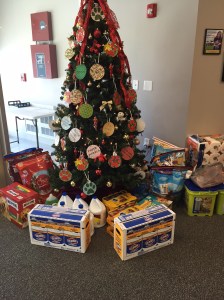 Employees in Williams' Bradford Supply Hub Midstream Operating Area made it a priority to spread Christmas cheer this season, for humans and animals, alike. Not one, not two, but three gift-giving campaigns were run in the Bradford Hub in the Horseheads, NY, Towanda, PA and various facility field offices to support local families and to supply a local animal shelter.
One effort included helping bring Christmas to a family of four in the Wilmot Township, PA area who suffered a home fire in November. Twin 5-year old boys, along with their parents, will benefit from gifts purchased by employees. Gifts will be wrapped and delivered in time for Christmas for this family recovering from significant loss from the fire.
In another effort,  the Towanda field office collaborated with the Children's House, Towanda, PA
to install boxes at field offices and compressor station offices with gift items listed on the box.  Employees gladly filled the boxes with wrapped gifts for distribution to participating families organized by the Children's House.
Lastly, not leaving out furry friends during the holidays, gifts were collected to support the
Horseheads Community Animal Shelter. Food, chewy toys and other pet supplies will be delivered to the shelter in time for Christmas.
Kudos to the Bradford Supply Hub for working hard to spread Holiday joy across the region.