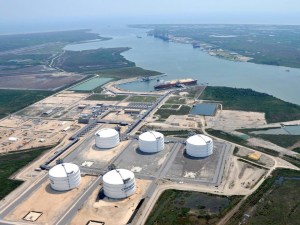 Williams has announced that it has successfully placed into service its Gulf Trace project, a 1.2 million dekatherm per day expansion of the Transco pipeline system to serve the Cheniere Energy Partners, L.P. Sabine Pass Liquefaction export terminal in Cameron Parish, La.
The Sabine Pass liquefaction terminal is the first large-scale LNG export facility in operation in the United States.
The Gulf Trace project allows Transco's production area mainline and southwest Louisiana lateral systems to flow gas bi-directionally from Station 65 in St. Helena Parish, La. to Cameron Parish, La. Cheniere has subscribed to all the firm capacity for the project.
"Projects like Gulf Trace, which leverage existing gas pipeline infrastructure, make it possible to connect abundant domestic supply with emerging international markets," said Rory Miller, senior vice president of Williams Partners' Atlantic-Gulf operating area. "Williams is well-positioned to take advantage of the projected surge in LNG demand growth, with our Transco pipeline passing through every U.S. state with an LNG export facility currently under construction."
Natural gas demand to serve LNG export facilities along the Transco pipeline is expected to grow by approximately 11,000 MDth/d by 2025. In September 2016 the company filed an application seeking regulatory approval for its Gulf Connector Expansion Project, designed to deliver 475,000 dekatherms per day to feed two liquefied natural gas export terminals in Texas — one located on the northern coast of Corpus Christi Bay in 2019, and another located on the coast of Freeport Bay in the second half of 2018.Gulf Trace is part of approximately $1.6 billion in transmission growth projects Williams plans to bring into service on its Transco pipeline system in 2017 that will help increase the pipeline's capacity by approximately 3.0 million dekatherms per day. The Garden State, Dalton, Hillabee (Phase 1), Virginia Southside II and New York Bay Expansion projects are all under construction and/or expected to be placed in-service this year.