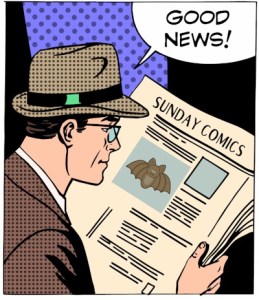 Mark Trail is a long-running, nationally-syndicated comic strip that has been around since the 1940s, focusing on environmental and ecological themes.
Recently, the comic strip positively referenced an initiative Williams is funding in partnership with the U.S. Fish & Wildlife Service to treat endangered bats threatened by a deadly disease known as white-nose syndrome (click to here to view).
Although Williams isn't mentioned in the comic, the federal and state agencies overseeing the project are very aware of the important role we are playing in supporting the ground-breaking research — underwriting the program being developed by researchers at Georgia State University (GSU).
GSU is pioneering the program to save bats by delivering mass treatments to caves used by bats as winter roosts. Treatments are administered using a patented device which fills the space with an anti-fungal aerosol designed to prevent the white-nose syndrome from developing.
It's been a great opportunity for Williams to partner on such an innovative program. The work is a big part of our mitigation to offset temporary impacts associated with the construction of our Dalton Expansion project, which is currently underway in northwest Georgia.
If you aren't familiar with the work we are doing, there was a great article in SNL Feb. 23 summarizing the initiative. The article includes some great comments  from our President & CEO Alan Armstrong complimenting the team's good work.